small room furniture placement
Small-Space Living Room Layouts
February 24, 2021 – 01:34 pm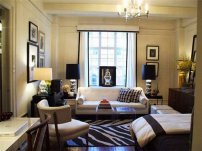 When carefully planned, a small living room can be both attractive and user-friendly. When you take the time to consider your storage needs and daily lifestyle, you can create a small but smart living room that increases the enjoyment of your home.
"Make sure the furniture you choose for your small living room is appropriate for the space, " says eco-friendly designer Robin Wilson, CEO of Robin Wilson Home of New York City. "For example, avoid sofas with skirts. You want to go for furniture raised off the floor."
A tall lamp that draws your eye up and adds height to the room or a stylish chair with a pop of color or interesting back are other tools Wilson likes to use to make a small living room feel larger and give it personality. Other simple ideas, like going for a space-saving flat-screen TV or a laptop that hides out of the way instead of a stationary desktop computer, keep the area free from clutter and allow traffic flow in and out of the room.
But try to resist the urge to use only small pieces in your small living room. Instead, consider an oversized chair that gives unexpected scale to the space, suggests San Francisco interior designer Jonathan Rachman.
"Oversized wall art also expands the room, " says Rachman. "Doing an accent wall color stretches and deepens the room. You can use a complementary color or something that offers contrast: You can have three walls neutral and then take that same color and use the deepest version of that color for the accent wall."
Creating the illusion of more space is the way to go, believes Rachman. A great area rug can be used to mark a seating area, or you can paint a pattern, like chevron stripes, on your hardwood floor to create borders to help the room feel more spacious. And just because you have a sofa doesn't mean you have to have a standard coffee table.
"In a small living room, you can use ottomans or stools that move out of the way when you need the space, " says Rachman. "Just make sure to consider how you need that room to function and if there are any special requirements. For example, if you need a pullout sofa for guests."
Think about traffic flow when you arrange furniture, but avoid placing all the pieces in one corner of the room. Also consider pulling your sofa away from the wall. This simple move gives you space to add a console table that offers open storage and a place for displaying your favorite collectibles.
Related posts: