Family room furniture placement
Functional Family Room Design Inspiration
January 19, 2022 – 01:00 pm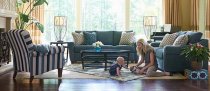 Tips and tricks from interior designers to make your family room design functional for the whole family.
Next to the kitchen, the family room is the most occupied space in any home. Choosing a family room design that works for everyone in the house can be a challenge, but Kelly Edwards, designer and host of HGTV's Design on a Dime, suggests choosing the right design doesn't have to be such a daunting task. What makes for a great family room design? "Ample seating, comfortable textiles, organization and great lighting, " says Edwards. "With those four things you can't go wrong."
Jillian Summers, award-winning interior designer with Upstaging Limited, suggests that "a great functional space works well when you can utilize the full space and can create a functional conversation area as well as room for TV viewing. Furniture placement is vital. Often times you can choose items that are multipurpose. For example, items that you can use for seating that can be stored under a glass coffee table when not in use."
The best way to go about choosing the layout that works best for your family is to think about how you are going to use the space. "Do you need a room with a big sofa for movie night, or a coffee table to play board games? Secondly, you need to consider your layout. Are there focal points in the room like a television or a fireplace?" Edwards asks. "Once you've figured that out, take measurements of your space (including your doorways) and search for the pieces that would work in the space. Maybe it's only a sofa, a chair and an ottoman. Remember, you can always create comfortable spaces with textiles. A rug and some large throw pillows on the floor can create a great zone for the kids to hang out."
Since the family room is a space to gather and relax, look for large sectional pieces with an additional seating element such as an ottoman or oversized floor pillows. Edwards even suggests taking a look at the chair-and-a-half. "It's larger than a chair, smaller than a love seat, but also has a pull-out bed." she says. "I'm obsessed with the chair-and-a-half for families. Perfect for sleepovers in the living room or in the kids' room."
Both Edwards and Summers agree that using soft textures make a family room the perfect place for everyone. "Use lots of warm cozy items that create a great inviting room. Lots of accent pillows and cozy throws, " says Summers. These elements can be swapped out seasonally or as your home decor tastes and color preferences change. How you display these elements, such as stacking throw pillows in the corner of the room to create a reading nook for children, impacts the overall flow and feel of the space." You can't go wrong with a large wicker basket filled with blankets, " says Summers.
Edwards says she believes "that a family room should not only be functional, but also comfortable." Her must-have items include ample lighting, a mounted television and lots of cozy blankets. Summers adds "My must-haves are a 'wow' factor, so a large vase with great flowers to add a punch of color for spring looks fabulous. I also love gold right now, so anything that can add a punch of gold, I love!" By incorporating these elements and objects, you tell the story of your family to everyone who enters the space. By making it yours and making it personal, you create a space that is truly unique to the individuality of your family.
Related posts: