Interior Design living room layout
Interior Design Principles: Approaches to Living Room Layouts
May 30, 2023 – 02:34 pm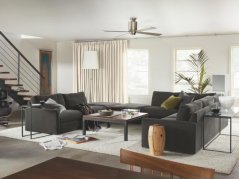 To demonstrate that you can arrange a room in more than one way, here are three different layouts for a the same living room. The first two arrangements take into consideration many functions. Each layout provides seating areas for big gatherings, small and large conversation groups, television viewing, reading and writing, scenery watching, piano playing, and group sing-alongs.
In this layout, the seating arrangement is traditional, with the large fireplace as the center of attention. The baby grand piano and chaise lounge make the bay window a second strong focal point, while the television, placed in front of picture windows, is incidental.
In another plan, back-to-back love seats create two living areas. The imposing fireplace draws the most attention, while the bay window and the grand piano play a supporting role. Your guests and you can see the television from the love seat and lounge chairs placed at an angle.
In the third layout, a Contemporary, L-shaped couch on a diagonal faces away from the windows. The fireplace is the strong focal point of the room, but this layout makes the television more important. A necessary traffic path to the couch creates a separation between it and the lounge chairs. The grand piano sits in front of the bay window.
When arranging your furniture, consider architectural features. Check out the following suggestions for devising your own layout:
Keep a piano in the background, so it doesn't obstruct the traffic flow. If you have both a piano and a fireplace, place the piano opposite the fireplace wall, to balance the room. Serious musicians insist that a piano be on an interior wall, away from direct heating and cooling vents, because heat and cold changes affect pianos and their sound.
Let the fireplace, a prominent element in any room, be the natural focal point that it is. Create major seating areas around the fireplace.
Nestle some furniture near the windows that have a beautiful view. This technique balances the seating in the room's primary area.
Place plenty of seating around the television set if you want it to be another focal point. More seating adds function and visual weight (and importance).
Related posts: