interior house designs living room
3 Lessons Learned from Patina Farm
October 11, 2021 – 05:53 am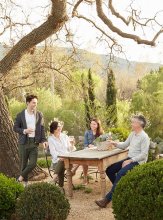 Brooke and Steve relax with two of their children in the alfresco dining area. "We wanted the outdoor spaces to be real rooms, an extension of what is inside the home, " says Brooke.
The couple planted boxwoods and other trees and shrubs both outside and inside the home so that "you feel like the lines blur between inside and out, " says Steve. The small sconce beside the door is antique.
A glassed-in walkway leads to the children's rooms. "When designing your own home, there is a freedom in experimenting, " says Brooke. "It's like a laboratory of design ideas." The pots are from Giannetti Home.
Classic and modern architecture coexist at Patina Farm. Forgoing baseboards or molding, the couple chose simple vaulted arches to add interest. The screen is a flea market find. "It's interesting in that it is both embroidered and painted, " says Brooke.
From the abundant gardens to a picturesque pond to each effortless, elegant room, it's hard to believe the home has been here for a mere three years. What's the secret? The clever blend of classic and modern architecture, the Old World materials, and the mix of distinctive antiques and pieces from Giannetti Home's own furniture line. "We wanted the home to have the feel of a European farmhouse with a modern twist, " says Brooke.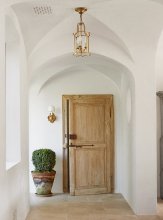 From the 300-year-old oak tree that shades the front door to the plaster walls, the French limestone floors, the repurposed wood doors, and the antique-tile roof, there is a sense of permanence, romance, and personal touch everywhere. "I'd rather see a plaster wall with a faint handprint on it than a perfect facade, " says Steve. Take in this sweeping, stunning home, inspired by the natural beauty that surrounds it.
With a neutral palette, Brooke and Steve use a strong focal point in the living room: a striking wallpaper panel. "You think that a sofa or a chair has to be the focus, " says Brooke. "But it can be a piece of art or a window."
Steve, a painter as well as an architect, grew up working with his grandfather in the family's ornamental-plaster studio. A wall holds many of the family's plaster pieces and his own paintings. They mingle with works by Jennifer Moses and Michael Abrams.
Steve and I have always dreamed of living on a farm. It would have gardens and animals and room for an art studio. Then we discovered Ojai.
— Brooke Giannetti
Knowing that they wouldn't use a formal dining room, the couple created a flexible space. "We use it for meetings, school projects, and of course family meals, " says Brooke. Antique side chairs are paired with Giannetti Home armchairs.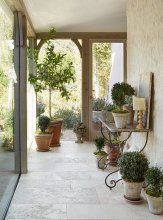 Above the Lacanche range, copper and stainless-steel cookware is within easy reach. The stone quatrefoil is from Belgium. Limestone was used for the range's backsplash.
"We eat here every morning, " says Brooke of the kitchen's dining nook. "The fireplace makes it cozy for winter dinners." The slipcovered chairs are Giannetti Home, and the couple's collection of vintage cutting boards gets prime placement. "I felt that they were too pretty to be hidden, " says Brooke.
Wanting to harness "every bit of natural light, " Steve designed a wall of windows to connect inside and out and flood the room with sunshine. A farmhouse sink sits atop white-oak cabinets, a material used throughout the home for "a sense of continuity."
The pair take frequent trips to Europe to source the antique furniture they love. In lieu of built-ins, Brooke uses an antique French cabinet for silverware and dishes. "I tend to stick with white, " she says.
The powder room reflects the couple's signature mix of rustic and refined. A marble sink found in Belgium is suspended on the wall, and a fountain spout finds new life as a faucet. The mirror is from Marston Luce Antiques in Washington, DC.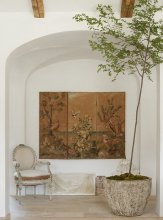 Brooke and Steve set up individual offices, each with a personal touch. Steve's office has a "modern, rustic bent" with warm browns and camels. Antique barn beams frame the vaulted ceiling, the glass doors, and the stone fireplace.
"Steve's office is steeped in his own history, " says Brooke. "Vintage tools and molds, his paintings, and family photos. They are all reminders of our ability to create beautiful objects."
Brooke's office "feels like a conservatory and surrounds me with the things I love, " she says. "I can see my potager garden and the chickens." The desk and chair are French and Swedish antiques. Office supplies hide behind the antique doors.
The exposed plaster shelves in Brooke's office display her collection of antique paper and vellum books. Brooke meets with her design associates at the table, while just beside it a natural linen curtain hides dog and rabbit supplies.
A wall of weather-grayed cedar in Brooke's office is a backdrop for an antique Swedish table and a framed set of pressed butterflies. The limestone floor from the covered porch just outside runs through the entire room.
A headboard was initially planned for the couple's bedroom, but "we realized we wanted it to be 'less is more, '" Brooke says. Keeping with the minimalist feel, soft Belgian linen and a pixie-size gilded mirror balance the rustic yet refined vibe.
One wall of the master suite leads to a stone porch. "We like to create outdoor extensions to as many rooms as possible, " says Brooke. An arched steel trellis with some reed fencing drapes a pair of upholstered chairs from Giannetti Home.
"We balance dedicated spaces for everyone with an open-floor plan. There's a sense of togetherness throughout the home, " says Steve.
How would we describe our home? Classic. Relaxed. And happy.
— Brooke Giannetti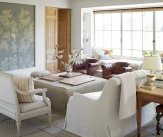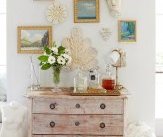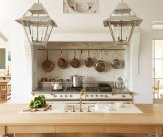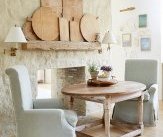 Related posts: