How to Design living room Layout?
Q&A: Living Room Layouts and Shoe Storage
February 15, 2021 – 10:48 am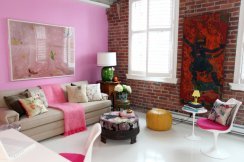 Q: How can I make our living room [left] more inviting? It lacks warmth and energy. Any advice would be greatly appreciated.—@lail38
A: Dear @lail38,
Warm and welcoming should definitely be the goal for a living room, so bravo on that! As for the how, I cornered the amazing Windsor Smith at a recent gathering with your question. "First of all, you want to unify the space to create one big, cohesive room rather than breaking it up into little areas, " she said. "One large, neutral rug as opposed to multiples will help with this and creates a feeling of warmth and calm. On that note, square off your furniture to the walls; angles just feel too chaotic."
The weightiness of the furniture may also be an issue. Windsor suggested a layout swap. "Simplify down to one couch, or two in an L-shape, then add a pair of chairs across from the couch to open up the walkways into the room. It's like Axel Vervoordt said, 'Get simple right. Nobody does.'" On a sidenote: Windsor was a big fan of your hanging paper pendant, so definitely keep that in the mix.
Related posts: