Room Styling Ideas
Restyle and Refresh: 7 Great Living Room Design Ideas
August 27, 2021 – 03:41 am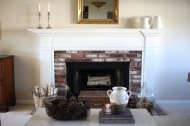 I don't know about all of you, but after Christmas I find I'm kind of in a "design funk." All the excitement of the holidays is over, and once I've taken all the Christmas decor down, my house feels pretty bare. It can feel challenging to decorate in these few months before spring. But instead of letting it get me down, this year, I'm embracing that pared down simplicity. In my living room, I've focused on a clean and simple look, with just a few winter touches to refresh the room.
I concentrated on adding a few things that just say "winter" to me, with the main one being pinecones. I use them at Christmas, obviously, but I feel like they cross over to "winter decor" as well. I also changed some of the baskets in front of my mantel and added my vintage French demijohn.
Wire and burlap basket is from TJ Maxx and the one below is an antique.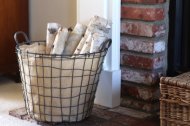 Texture is a big one for me in winter. Baskets, blankets and throws, and texture in pillows and fabrics all add that "cozy" feeling we want in the wintertime.
I also changed out my books to ones with very neutral and/or grey covers. I didn't want anything too spring-y so my green ones will come back out in a few months.
I used these tiny pine cones when I decorated for Christmas, but I'm keeping them out because I love them!
A clean but simple look to last me until I start decorating for spring. Pitchers are vintage and new from Anthropologie.
Shop the Post!
Thanks again for stopping by! Hopefully we've helped to inspire you with some new ideas on how to refresh and restyle the design of your living room for the new year. I hope you will take the time to pop over to Amie at Meme Hill next, and then on to the other bloggers from there. I'm sure you'll find ideas and inspiration from all of them!
Restyle and Refresh Living Room Line-Up
Sheila at Maison de Cinq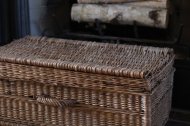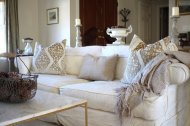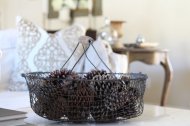 Related posts: