Formal Lounge Ideas
Creative Ideas for Transforming Your Formal Living or Dining Room
May 25, 2021 – 07:01 pm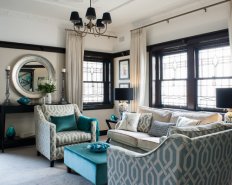 In times when entertaining with dinners and "retiring to the lounge" were relevant, these rooms and their decor might have been the highlight of your home. Now, we want our homes to be places of productivity and convenience – places in which we feel comfortable, but also empowered and ready for anything. This modern trend has little use for formal entertaining rooms, but could make great use out of their spaces.
The desire to re-purpose a dining or living room is influenced by "the trend to present a more casual lifestyle, " says Hometalk Expert Kass Wilson. To make a formal dining or living room into a more casual room, like an office or library, just do as Kass says, and "shift into neutral." Repainting the room and the furniture in neutral tones will create a fresher, lighter atmosphere in your home.
She recommends turning a previously highbrow room into an office, in order to comfortably work from home. "More people are working from home, " she says, "and [they] need a private space within an open floor plan."
According to Hometalk Expert Dana Tucker, a formal living room can easily be converted into a conversation area or library, with four club chairs situated in a circle with a big round ottoman in the middle. Arrange a large tray on the ottoman to use as a place to set your drink. Add a couple or three matching IKEA Billy bookcases pushed together to create a library. Paint the back of the bookshelves, or apply wallpaper or contact paper to give it a punch of color. Style the bookshelves with books, magazines, and treasures. This would make a great spot for having coffee with friends, reading your favorite books, or writing in a journal. Not having any TVs or electronics in the room will make this a quiet retreat.
Another idea for a formal living room would be to turn it into a craft room. Use IKEA Billy bookcases with baskets for storage, and pegboards for ribbon and scissors. Place a large island (or converted table) in the middle of the room with drawers or baskets underneath and a tabletop or counter for crafting. Pull up a couple of bar stools on each side and you are ready for Ladies' Crafting Night.
Though it may be hard to let go of the formal rooms in your house, if you're only using them for holiday meals and hosting the occasional event, it's time to get more use out of them! Try these ideas for a creative dining or living room repurpose, or go to the Dining Room Ideas topic or the Living Room Ideas topic on Hometalk.
Related posts: