Cozy Sitting room Ideas
How to Make a Small Living Room Look Cozy & Not Cluttered
June 28, 2022 – 05:55 pm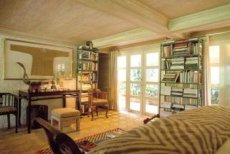 When size in your living room is limited, it's important to consider how best to use each aspect of the space in an organized fashion.
A small living room may be limited by its size, but designed with thoughtfulness and few tricks, you can make the space feel larger than it is while maintaining a cozy feel. Keeping a small living room clutter free is a matter of designating spaces for items, keeping them in their proper places and a little bit of upkeep.
Let There Be Light
Create a brighter space in your small living room via lighting. Both natural and artificial lighting can be employed to achieve the desired effect. Allow natural lighting to come in through the windows to brighten the space. Don't keep them covered. Employing sheer or semi-sheer drapery panels is one good solution to allowing natural light in. Recessed lighting can add brightness to a room without adding clutter to the ceiling.
Everything Goes Up
Design your living room to keep the eye drawn upward. This means employing the use of vertical lines wherever possible. Bookshelves should have a vertical hierarchy. Floor-to-ceiling shelving not only holds more, it also maintains the up and down sight line you want to maintain. Think about small details like wood grains, which should also be vertical as well. If you add details such as base molding, consider a higher height of 6 inches and a thinner thickness of 1/2 inch.
Related posts: