Narrow Sitting room Ideas
How to Rearrange a Long, Narrow Living Room
June 12, 2021 – 08:37 pm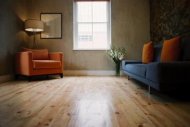 Arrange the seating before adding the rest of the furniture.
When you have a large, well-proportioned living room, rearranging the furniture seems simple because you have so many different options. It's trickier to rearrange a long, narrow space. The key is working with the living room's shape - even if that means some of your furnishings no longer fit.
Empty the Room
Move everything out of the living room, even artwork and mirrors hanging on the walls. If you can't empty the room, push everything into the center and cover it with bed sheets. You need to see the space with fresh eyes, and you can't do that when you're staring at the way it's always been.
Plan the Seating Areas First
In a long, narrow living room where usable space is at a premium, arrange your seating areas first. If you must use a sofa and yours isn't too deep, center it on one of the long walls in the room. Pull a chair up to each end of the sofa and position a petite cocktail table in front of it. Love seats provide more options in narrow rooms than sofas. You can float a single love seat in the room, perpendicular to the long walls, and then create additional seating with chairs. To create two seating areas, place a second love seat back to back with the first. If the space is better suited to a single, centered seating area, turn the love seats around to face each other and place a narrow cocktail table in between.
Balance the Room
Long, narrow rooms tend to look too heavy on one end if the furnishings aren't balanced. If you opted for a single seating arrangement placed at one end of the room, balance the other end with a pair of small table and chairs, a desk with a hutch or a pair of swiveling club chairs placed in front of a decorative chest. Even with a centrally placed seating area, the room's focal point may cause a lopsided feel. If one of your short walls has a fireplace, a bank of windows or a large television, fill the other wall with something of equal weight. Consider a wall of bookcases, an antique armoire or a large-scale artwork installation, be it a grouping or single piece.
Leave Space to Walk
When you're placing the furniture, leave pathways to pass through the space. Ideally, make your pathways 36 inches or more wide; 30 inches is the absolute minimum. Plan the pathways to minimize the disturbance to those using the space. For example, it's fine to pass between a seating area and the television, but don't position a pathway between the sofa and cocktail table. It's annoying enough to move your legs aside in a theater aisle; you certainly don't want to have to do it at home.
Wayne Shielly, Interior Decorator; Bartlett Home Furnishings; Memphis, Tennessee
Use What You Have Decorating; Lauri Ward
Related posts: