Master bedroom Furniture Arrangement Ideas
Arranging a Master Bedroom Layout
March 8, 2022 – 02:40 pm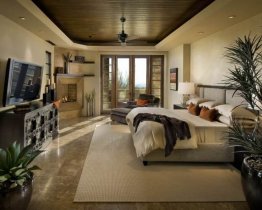 The master bedroom can present a challenge, it needs to be comfortable, relaxing but also functional and practical. Making things even more complicated, the master bedroom tends to contain several pieces of relatively large furniture in a comparatively small room. Approach the layout with an open mind, don't lock yourself into a "standard layout". Start by drawing a scale drawing of the room, mark where doors, windows and outlets are. Next, cut out pieces of paper to scale to represent each piece of your furniture. Play around with the layout, move things around, don't assume furniture has to be pushed up against the wall.
Where to Put the Bed
When laying out a master bedroom, begin with placement of the bed. The bed is likely the largest piece of furniture in the room and all other furniture may be based upon the position of the bed. If you have the space, a master bedroom should have at least a queen size bed, even if for only one person. It's worthwhile for your comfort and for convenience when hosting of out of town guests such as parents or friends.
The standard is to have the headboard against a wall, with space on either side and the foot of the bed extending into the center of the room. If your room is large enough, this arrangement will allow for options as to position. Take into account the location of the doors, where natural light will fall in the morning, and what your perspective will be from the bed.
Have a table or nightstand on either side of the bed for a convenient place to put jewelry, alarm clocks, reading material, etc. For a more modern look, instead of a nightstand consider floating shelves mounted to the wall. Use a height for the shelves that is below the height of the mattress to avoid bumping your head when you sleep. Each side should have an independently controlled light source, either a table lamp or wall sconce. For general light with a modern twist, consider a headboard with space for soft ambient uplight in a gap between the headboard and the wall. If space allows, you may also wish to consider having a padded storage bench at the foot of the bed. It's an excellent place to store extra pillows and blankets, and convenient for laying out clothes, taking off shoes, and other routine activities.
A variation that is useful for smaller rooms is to have the bed in a corner, with the headboard and one side of the bed along perpendicular walls. A storage headboard is a good choice for this arrangement, because it will still allow for easy access to various items that are convenient to have on hand from either side of the bed. If space is at a premium, you will also want to utilize the storage space underneath the bed, either with a storage bed frame, or with under bed boxes.
Planning for Storage
Beyond the easy access storage of a built-in closet, and the long-term under-bed storage, you may find that you need more places to put your stuff. Dressers and armoires should be chosen according to what works best for the proportions of your room. Keep in mind that you will want to ensure adequate clearance for opening drawers and doors. Enough space should remain that you can maneuver freely around the room even if drawers are pulled out and doors are ajar. Dressers and armoires also provide the opportunity for additional decorative features like mirrors, or a convenient place to put entertainment equipment like televisions and radios. If you prefer a lighter, more modular style of decorating, you can consider getting shelving with attractive storage containers fitted to the height and width of the shelves. Consider your dressing routine, and try to place the storage in a place that will fit your habits.
Entertainment Equipment
Audio systems and televisions are a popular choice for the bedroom. Small audio units, like docks for personal mp3 players can easily be placed on the nightstand. More elaborate entertainment systems can be put on dressers or shelves, and operated with a remote. Televisions are getting lighter and flatter, so consider looking into wall mounts with hinged arms that can be extended when you are watching, and flattened against the wall for convenience when the television is off. Use cable organizers to keep cords from getting tangled and to keep clean visual lines. A charming touch is to cut a rectangular swatch of appealing fabric, and tie the excess cord up with a decorative bow.
Placement of a Mirror
Your master bedroom should ideally have a full length mirror, to help spread light in the room, and so that you can check your appearance before beginning your day. When space allows, floor standing mirrors are an elegant touch. Although putting a lightweight mirror on the back of the door is a convenient space-saving solution, it's appearance is somewhat inelegant.
Related posts: