Small bedroom Furniture Arrangement Ideas
Furniture Arrangement Ideas for Small Bedrooms
December 27, 2022 – 11:56 am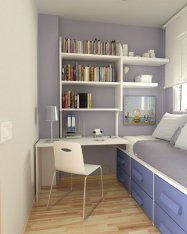 Narrow bedrooms present design challenges that require creative solutions for a stylish and inviting bedroom. The first goal of design is to take advantage of the room size. Don't scale your furniture down to the point that it's no longer functional, much less comfortable. Create a design that allows more usable floor space and adds versatility to your bedroom activities, such as sleep, work, lounging, and reading.
Multi-Functional Furniture
Look for multi-functional furniture, such as a daybed, futon, or sleeper sofa. These bed styles give a narrow bedroom the illusion of space besides providing a different look when not being used for a bed. Place this piece of furniture on one of the long walls of the room.
There should be room for a dresser or armoire on the opposite wall. You can add a comfortable chair and table on the end wall or perhaps a desk and chair, if needed.
Accessorize the Room
Once you've selected and placed the furniture, it's time to accessorize the room. This is part of your bedroom design where you can scale down objects to make the room look larger.
Narrow tall lamps are excellent choices for smaller spaces to give the optical effects of height. Placing them on a narrow table emphasizes the lengthening of the vertical lines.
Scaled down framed artwork completes the look.
Small Square Bedroom Ideas
A square-shaped bedroom presents its own challenges with furniture layout, although mostly, beds are rectangular in shape and fit easier in rectangle-shaped rooms.
Queen and Full Bed Design Options
You may have room for a queen size bed, but in some cases a full size bed will be the largest you can get into the room comfortably. Place the bed on a solid wall to anchor it to the room. Accessorize with the following items:
Add floating shelves instead of nightstands with wall lamps or sconces in place of table lamps.
A fitted comforter will help minimize the size of the bed by creating a cleaner and more compact look.
A pair of scatter rugs on either side of the bed or a round area rug will help to break up the square shape of the room.
Other Bed Options and Room Design
A murphy bed is another ideal solution, especially one that has a built-in desk or an entire wall unit that features closets and drawers. If you only need to use the space for a guest bedroom or as a spill over to the guest bedroom, then a sleeper chair may be the best option.
You can add a desk and chair to complete the layout. Another possibility is to add a dresser and a single nightstand that can be used as a side table with the chair. If space allows, add a dresser or an armoire.
Additional Furniture and Accents
Select a collapsible/expandable desk, a wall mounted folding desk, or a wall floating desk to save valuable floor space. Some of the wall mountable desks can be folded up when not in use. Other accents and furniture pieces to consider include:
Floor and wall mounted lamps and sconces save floor space.
A dresser can be placed on the wall beside the bed, allowing the space in front of the bed to remain open and gives the illusion of a larger space.
Wall shelves can be added to conserve floor space and place bins or baskets there for extra storage space.
Long and Narrow Bedroom Layout
A long narrow bedroom can give you more space than you might realize if you capitalize on the length of room.
Bed and Furniture Options
Start with a bed size that has enough space on either side to allow easy movement in and out of the bed. A good bedroom design avoids placing the bed lengthwise against the wall, except for beds designed for this like daybeds.
Related posts: