Living room Arrangement for long narrow Rooms
How to Decorate a Long Narrow Living Room
April 21, 2022 – 04:06 pm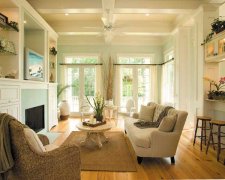 Decorating small spaces is something a lot of us have to do, but long narrow living rooms? That's a whole other problem. With long and/or narrow rooms you always run the risk of creating a tunnel effect – not the best if you're trying to create a welcoming and cozy space. However there are a lot of ways to decorate these awkward rooms that can help minimize the effect.
To turn your long narrow living room into an inviting oasis try some of these decorating tips.
Create a Walkway
In any long narrow room it's important to create a path for people to walk through. Granted it's important in any room, but in a narrow room it can be particularly tricky. The last thing you want is people tripping over furniture or zigzagging across the room, so always create a path. If possible put it on one side of the room rather than right in the middle. It will create a cozier atmosphere.
Pull Furniture Away from the Walls
When you're arranging furniture don't push everything against the walls if you can help it. On at least one side of the room make sure to pull the furniture away from the wall and float it in the middle of the room. Contrary to popular belief it will not make the room look choppy, but rather it will create a cozier seating area (and leave you with the walkway mentioned above). When all the furniture is pushed against the wall it can also create a bowling alley effect which is generally not desirable.
Use Some Circular or Oval Pieces
One of the best ways to prevent "bowling alley effect" is to use some furniture with soft, round edges. A circular coffee table or ottoman in the center of the seating area can do wonders for counteracting all the straight lines. Round light fixtures, lamp shades and side tables can also help.
Place Something Perpendicular to the Length of the Room
Rather than using a long sofa against the wall, consider using two smaller love seats placed perpendicular to the length of the room. Breaking up a long narrow room with this type of sofa placement will definitely help avoid the tunnel effect. If you do decide to put a long couch against the wall place your side chairs perpendicular to the couch rather than across from it.
Divide the Space
If your room is particularly long divide it up into separate areas. Consider two different seating/conversation areas, or perhaps a seating area and an office space. Think about how you will use the space and divide it based on that. Besides just the furniture, divide it using area rugs and art (avoid placing art in the center of a long wall if you're creating different areas).
Use Vertical Space
Draw the eye upwards by making the most of your vertical space. Use tall pieces like armoires and high bookshelves; create art and photo arrangements that go all the way to the ceiling; and hang drapes from where the wall meets the ceiling to create the illusion of height. Also consider using vertical stripes on walls or window treatments to help draw the eye upwards.
Be Efficient
In narrow living rooms clutter is the enemy. Because space is limited, any extra items can make the room feel disorganized and even create tripping hazards. Make sure everything has its place and be sure to edit extra pieces of furniture. Even something as small as a side chair can wreak havoc. Whenever possible use items that can serve two purposes – like an ottoman with storage inside.
Related posts: