Living and dining room Ideas
5 Tips For Making a Double-Duty Living & Dining Room Work in a Small Space
July 3, 2021 – 11:08 pm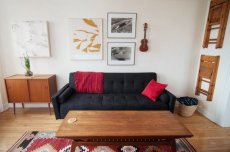 Trying to lounge and dine in the same small space? Small homes just don't always have the luxury of square footage to create separate, distinct spaces, so you have to get creative with furniture layout and storage. Here are some ideas to consider if you're trying to figure out how to mix these two functions in one small space gracefully and stylishly.
1. Place a (square or rectangle) dining table near a wall
Don't let your dining table waste space when not in use. By letting one side rest against a wall it won't take up as much room or dominate the look of a space. A small enough table could be styled so that it looks like some other type of table or desk when not being used as a dining table. And you can always pull it out and place it more prominently when entertaining.
2. Incorporate unconventional dining seating that can be used a variety of ways
If you do have room for a small table (even if one side is up against a wall), there's not necessarily a need to have all the seating siting around it at once all the time, taking up needed space. Use instead stools or narrow benches for dining seating; you'll be able to move the seating to other parts of the living room area when not eating. This is especially helpful when dining room chairs might jut out into the flow of traffic through your space.
3. Consider a coffee table and pillows instead
If you're really short on space, incorporate a wider coffee table that is at a height that would work well with dining seated on floor pillows. You can keep the pillows stacked up in a corner or placed on the sofa to pull out and arrange around a low table when you're ready to entertain. Find a great example in Isaac and Florence's Eclectic Zen-Inspired Apartment.
(Image credit: Alana Range)
4. Use expanding furniture
Not always the most affordable option (but definitely deals can be found), going for furniture that can be expanded like a dining table with leaves or the awesome-sounding coffee table in Alana's Brooklyn Railroad means your one room can change transformer-style when it needs to switch main functions.
5. Go for bar carts on wheels
Forget a dining table all together, and use a bar cart (you can buy or DIY bar carts!) for food, buffet-style. With a smaller foot-print than a large credenza, you can move it anywhere you need. And, it's stylish enough so that it looks good even when not in use. You could serve a more snack-style meal versus sit-down dinner if you're really short on space in a studio or other small apartment.
6. Floating and flexible storage can be for both media and dishes
Consider letting some stylish storage perform double duty. Maximize the storage inside of a furniture piece that is long and narrow so that it holds any dish storage you might need for dining, but also any media you might need for your living space. For very small spaces, consider hanging it on the wall so that it "floats" and has lots of air underneath it; this will help keep it from feeling too heavy and keep that spacious feeling. But whether through baskets or doors, keep what's being stored hidden so it doesn't confuse the eye about what function a room is supposed to be providing. A great example can be found in this Before & After.
Related posts: