Interior Design Style Small Living room
Small Living Room Design
January 10, 2023 – 11:59 am
Small living rooms can still be cozy and spacious—with the right design and layout tips. Invest in multifunctional furniture, get a little creative with your storage solutions, and voila! You're on your way to designing a beautiful living room space perfect for your style. Check out our design tips for small living rooms below!
Tips to Design Your Small Living Room
From the furniture you choose to the arrangement, decor, and accessories, you can completely transform your small living room design!
#1. Make clever entryways with shorter furniture, mirrors, and hooks.
Shorter furniture such as low credenzas, consoles, benches, and media consoles are perfect for small living rooms near the front door that don't have entryways. You can include a wall of hooks above a storage bench or a mirror above a media console to create the illusion of space. Including hooks or shelves above benches and consoles is the best way to utilize space by tucking away shoes, purses, keys, and more—especially when you don't have a corner closet!
#2. Invest in multifunctional furniture.
Why have a separate, clunky cabinet or trunk full of blankets and other items in the living room when you could use a storage ottoman with your sofa? Interior designers swear by dual-purpose furnishings in small spaces as a way to double up on function and reduce visible clutter, making your living room appear more spacious.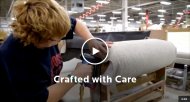 #3. Go vertical.
Small spaces, especially small living rooms, require creativity when finding extra storage solutions. Use the area above cabinets, TV entertainment centers or media consoles, and singular, open bookcases are excellent ways to maximize your space!
#4. When in doubt, decorate in mirrors.
Mirrors are a decorator's best friend, and for good reason. Mirrors are not just used to maximize light and encourage a bright, open feeling; they also create the illusion of space. Full-length mirrors between two windows can trick the eye into thinking there's another window. But what if you don't have space for a full-length mirror? Invest in smaller mirrors to create a mirror gallery. A narrow mirror flanked with art is beautiful and can uplift the entire arrangement.
#5. Abide by tried-and-true layout arrangement rules.
For narrow spaces, mount the television and cut out a media console or entertainment center altogether. If you don't know what to put right beside a television, you may have room for a small desk or bookshelf. If you have an open space that's still rather small, create room dividers with functional storage solutions, such as open shelving solutions.
Related posts: