Curtains Design for Small Living room
What Type of Curtains Make Small Spaces Look Big?
December 1, 2021 – 02:27 pm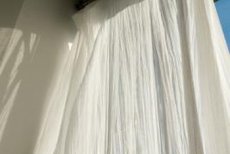 Flowing curtain panels add a sense of space to any small area.
Owners and renters of small homes and apartments want their homes to look as uncluttered and roomy as possible. Even the smallest living space looks more spacious and stylish when you install new curtain panels.
Hang Them High
Classic panel curtains make a room look more spacious when you mount the curtain rod close to the ceiling instead of at the window frame. Sleek, floor-length panels draw the eye upward along the entire length of the curtains, creating an illusion of height. Hang curtains about 4 inches above a window frame in rooms with ceiling moldings and up to 6 inches in rooms without moldings.
Go Vertical
Sheer, lightweight curtains with vertical stripes add height to a small space. Muted patterns or plaids in lightweight fabrics with bold vertical stripes or open-weave curtains with vertical designs woven into them add texture and airiness. Avoid heavily colored horizontal patterns or large flowered prints, which tend to dominate a room, creating a feeling of less space. Choose them in the same color or a slightly lighter shade than the walls to provide consistency. Heavy, dark-colored drapes crowd a room, making it look smaller.
Curtain Rods
Adjustable or long solid curtain rods help create the illusion of spaciousness. Opening a decorative curtain rod to its maximum width and attaching it to the wall near the ceiling allows you to open the curtains completely, framing the window and any furniture placed in front of it, which makes the window look larger and lets more light into the room.
Related posts: