How to Arrange Furniture in a Bedroom?
How to Arrange a Bedroom
December 3, 2016 – 03:47 pm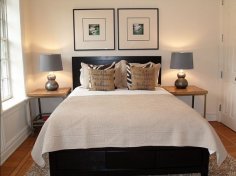 -Arrange the bedroom to make the most of your space. Here's how to get the restful retreat that you crave. Your bed is the largest piece of furniture in your room so start with that. As a general rule, you have 2 choices for where to place the bed, either on the wall opposite your bedroom's door which creates a pleasant view when you enter the room or along the room's longest wall. Most bedrooms have at least one length of wall that isn't interrupted by windows or doors. This gives you plenty of room to put a night stand on each side of the bed. The next consideration is your dresser which is usually the second largest piece of bedroom furniture. If you use a wide chest, it can also function as a tv stand. In this case, it make sense to place the dresser across from the bed for easy viewing. Once the largest furnishings have been placed, determine if you have space for more such as a bedside table or too which will add more storage in the surface for placing a lamp, clock and other bedside necessities. If you have extra space, consider a small desk and chair outfitted with a mirror for primping or office supplies for writing and filing. Place a small ottoman or bench at the end of your bed as a handy porch for sitting to put on shoes in the morning. To arrange your bedroom, consider door and window placement, the room's dimension and the size of your furniture. Place the largest pieces first and then work in the smaller pieces to create a bedroom that is arranged to suit your space and needs.
Related posts: