How to Arrange Furniture in a room?
Living Room Layouts: How to Arrange Furniture
May 2, 2019 – 05:16 am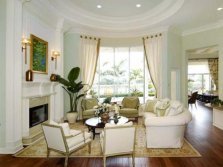 When it comes to decorating a home, there are few things more intimidating than standing in an empty room and not knowing where to start. There are so many things to consider—personal aesthetic, lifestyle, budget and more—but the best way to begin is with the furniture layout. In other words, determining the arrangement of sofas, chairs, tables, storage cabinets and anything else that is involved in the room's floor plan (any item that touches the floor). We've compiled a simple guide to follow that works for every room in the house, starting with the living room. These living room layout ideas will make the job of arranging furniture and decorating your home easy and enjoyable.
Measure the living room from wall to wall, making note of the length and width of the room.
First, draw a box, noting the measurements on all sides. Whether you create it on a computer program or hand draw it on graph paper, having a scale floor plan is helpful for space planning. Most of the time, converting feet to inches at a 1:1 scale is easiest. For example, a living room that measures 16 feet by 10 feet would convert to a 16-by-10-inch box. Then measure any furnishings that you've decided to include and create a separate uniquely-sized box for each piece. If drawing by hand, one idea is to create paper furniture cutouts (to scale) so you can play with different furniture arrangements.
Related posts: