Decorating Small Living Spaces
Amy's Tiny Living Room Before:
October 29, 2021 – 07:19 am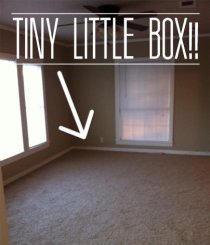 When Amy moved into her new house, she says she was "a bit nervous to sign the lease" because it was smaller than she was used to–990 square feet to be exact. One of her biggest concerns was the living room–she sent me this "before" photo of it, saying, "It looked like a teeny tiny little box!"
All the windows and doors around the room didn't help, but she managed to turn the "tiny box" of a space into a warm and welcoming living room. Here's how it looks now:
She says, "It's pretty amazing how some thoughtful furniture placement can really make a difference. This living room is less than half the size of the one in our previous home, but you really don't feel like it when you're in the space."
She found that vintage wicker chair for $65 and says it was "the color of a band-aid." But she loved the shape of it and it was in great condition, so she painted it red. Here's a photo of it in mid-transformation:
The bookshelves were another DIY project of hers. She got them at Target and says they "aren't what you'd call the highest of quality.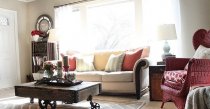 They are the kind of shelving that you put together yourself, and the backing is not the prettiest. It's that terrible cardboard covered in a fake wood veneer."
So she covered the backs of them with a patterned fabric that would give that side of the room a little more "punch." You can read the DIY tutorial about how she did it here.
Are you hooked on houses? More to tour:
See More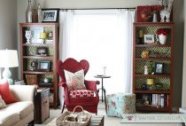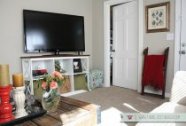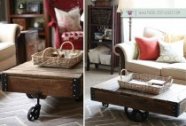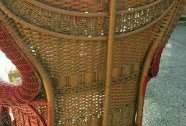 Related posts: