Apartment Furniture Layout Ideas
7 Apartment Decor Ideas That Turn a Ho-Hum Rental Into a Home
April 1, 2022 – 03:30 pm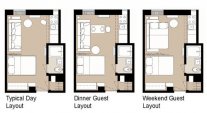 Renting an apartment offers its fair share of perks: The HVAC breaks? Call the super! Roof leak? Your landlord fixes it. But if you're eager to dip your toes into the world of interior design, renting offers a lot of restrictions. From those dull, boxy living rooms to the annoying restrictions on what you can and (mostly) cannot change, you might feel severely limited. It doesn't have to be that way!
Here are some apartment decorating ideas that help renters optimize their small space without worrying your landlord or sacrificing a sense of style, either.
Separate your spaces
If your apartment is on the smaller side, use room dividers to create separated spaces. Carve out office space in your bedroom with a bookshelf, or use a long, flowing curtain to create a conversation nook that's visually distinguished from your dining area.
Hang mirrors
Mirrors make walls seem larger, add visual interest, and spread light around the room—a godsend for people living in apartments, which are often small, angular, or awkwardly arranged. Hung over the fireplace or propped over a dresser, they add glamour and style to a boring room.
Think white
White isn't always the correct pick for small rooms, but if your space gets a ton of natural light, a pristine coat of white paint can make your decor pop. There's a reason Benjamin Moore's 2016 Color of the Year was Simply White—and as a bonus, hardly any landlords will say no to an all-white makeover.
Do double duty
If your ideal apartment is always party-ready but your apartment lacks living and dining space, pick dual-purpose furniture. Look for side tables that double as seating, like a colorful pouf or a vintage chair. And choose a couch that unfolds into a futon so sleepy pals will have a spot to crash.
Surprise with pops of color
Even if you didn't pick all-white for your apartment, adding bright pops of color to your decor can make the entire space seem brighter—and way more visually interesting. Choose one shade, like yellow, or combine two or three to create a beachy, summery apartment.
Be impermanent
Don't go to war with your landlord over major changes in your rental apartment. You can change your walls and your countertops without damaging something you don't own—just look for peel and stick solutions, like marble contact paper for your kitchen or easy-to-remove wallpaper.
Add some curves
Apartments tend to be small, boxy, and boring—a real decorator's challenge, no matter their creativity. Instead of choosing rectangular couches, angular tables, and square bookshelves, pick something curvaceous—a series of round coffee tables or a circular dining table—to break up the box.
Related posts: