Small Apartment Furniture layout ideas
What I Learned from Downsizing: Decorating Ideas for Small Apartments
July 6, 2022 – 06:15 pm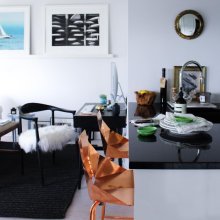 My new apartment in downtown Montreal is smaller in scale than what I'm used to, but ultimately it all comes down to layout and function. If I'm being honest, the large kitchen, dining room, and living room in my last apartment were seldom used and, in hidsight, a total waste of space.
In this apartment however, every nook and cranny was carefully planned to maximize storage and function - from the initial floor plan to the decor details.
The main living area serves as both my living room, dining area, and office space. I used multipurpose furniture to make everything as open and functional as possible.
I added a large dresser next to my dining table to serve as a buffet/credenza/bar area. In reality, it's filled with out-of-season clothes, sports equipment, and linens, but no one would ever know!
There wasn't enough space for a TV bench and a deskspace, but in reality, I rarely sit down to watch TV. So I placed my desk and my large computer monitor across from the sofa - the perfect distance to watch Netflix on occasion.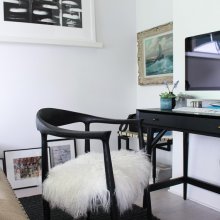 I also had to choose a desk chair that was comfortable enough for long work days, but that could easily transition to extra guest seating during cocktail parties. The Frida chair from Mitchell Gold + Bob Williams was the perfect meeting of form and function.
In the last few months, I had to learn the art of editing. Living in a small, open space means that even one out-of-place item makes the entire room look messy! Because of this, I stuck to clean lines and a simple color palette for the decor.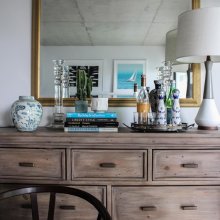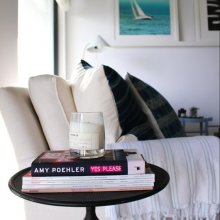 Related posts: