Patio Furniture layout
Outdoor Furniture and Patio Furniture Sets
March 14, 2023 – 01:02 pm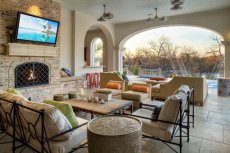 From fledgling spring, through vibrant summer and into the crisp early months of fall, the patio becomes an integral extension of your interior home. Whether your home is the go-to for neighborhood barbecues and family picnics, or simply a respite from everyday responsibilities for you and your household, seize the opportunity to make your backyard a hub for relaxing, entertaining and soaking in the warm weather and buoyant atmosphere.
Patio Entertaining
Bring together elements of both the kitchen and the dining room to assemble your alfresco food prep, grilling and dining area. If you have the room, try to keep some space between the actual grill and the dining table and chairs to give the grill master room to work and to keep guests cool and away from the heat of the charcoal. To achieve the look and feel of a traditional dining space, look for long, classic rectangular tables in durable materials such as stainless steel or unfinished teak. If your patio is on the smaller side, try using a couple of round bistro tables arranged all throughout the sitting area. If you do choose to combine your grill and dining space with your lounge section, be sure to look for a rug in a highly durable fabric that's also easy to clean, such as polypropylene.
Patio Lounging
Mirror the luxury, comfort and style of your interior living room in your garden area with sectional sofas, loveseats, armchairs and ottomans. Furnishing outdoors is all about the material—maybe even more so than in the home—because in addition to having both timeless style and enduring comfort, your patio furniture needs to be weather resistant. Consider a set in resin wicker, an all-weather, mildew-resistant material. If a rustic wicker look isn't for you, consider slipcovered furniture. Sunbrella offers slipcovered sofas, chairs and ottomans as well as cushions for wicker and resin wicker furniture, with water-repellent, UV-resistant ticking. If you have enough space, arrange the central coffee table and small end and side tables as you would indoors. If your patio is on the smaller side, forgo the traditional layout and create a unique yet functional setup with a fusion of round accent tables and garden stools.
Fresh Decor
Take advantage of the growing season and decorate with fresh green botanicals and potted flowers. Easily grow fresh herbs like basil, dill and rosemary in long rail planters designed to conveniently hang on a window ledge, deck frame or railing, or yard fence. Accent your lounge space with tropical ferns, succulents and dry air plants in modern square and rectangular floor planters. Create an aesthetically and texturally interesting central display with a variety of planter heights. Alternatively, scatter your mix of plants throughout the deck, giving it a natural, woodsy look. Finish off your decor with atmospheric mood lighting to keep your patio alive well into the warm, open night.
Related posts: