sofa Arrangement
4 Sofa Arrangements to Maximize Your Living Room Layout
March 2, 2021 – 01:44 pm
The layout: Open floor plans are enviable, but sometimes creating an area for gathering and relaxing within them can be difficult. The way to go is multipurpose, with a U-shape seating arrangement that gives a large area a sense of focus and intimacy alongside a separate dining space.
The sofas: a 66″ settee or love seat and an 84″ sofa
Round out the space by… anchoring an arrangement on top of a 12′ (or larger) square rug, so that you create a room within a room. Be sure there are plenty of surfaces, such as drinks tables, to hold snacks and drinks, plus table or floor lamps at each grouping.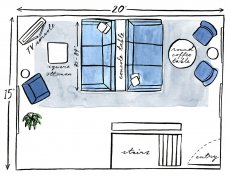 You want to create a sense of having everything you need within reach.
For Double Living Areas
The layout: If your space is large and long, dividing it into two distinct spaces using back-to-back sofas avoids creating a hotel-lobby or airport ambience.
The sofas: matching 80″–89″ sofas
Round out the space by… giving each area a specific function: one for laid-back TV watching, reading, and napping in front of a roaring fire; the other for drinks, family game night, and lively conversation with guests. A console table between the sofas provides a bit of separation and a place for table lamps.
Related posts: