Room Arrangement
Ideas for Small Living Room Furniture Arrangement
February 14, 2023 – 12:39 pm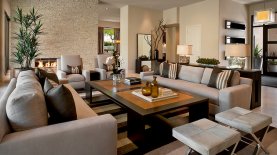 Photo © Reader Submittal
This arrangement provides a lot of storage, while still providing plenty of seating. The long wall has enough room for a large shelving unit, and the table behind the sofa provides additional storage and a possible place for lighting.
This furniture arrangement is ideal for a single adult or a couple. With the exchange of the bar for a slightly larger table, this arrangement could also work for a small family.
During entertaining, the stools or chairs could be moved somewhere else in the room for...MORE temporary, additional seating, and the bar used as a serving area.
Armless sofas look sleek in small spaces, but they are not especially comfortable for lounging about. You may not have a tiny living room forever, and a sofa may last 10 years or more, so choose a sofa that is comfortable. Think of your sofa as an investment and then purchase less expensive accent furnishings.
When purchasing accent chairs, think "light." Anything with a heavy look or dark colors will feel huge in the room. Armless chairs, like slipper chairs, can be a good choice. Avoid anything with a tall backrest. Transparent chairs such as "ghost" chairs look great in small spaces.
In a small space, choose furniture with clean lines so the eye won't get stuck in one place - designer-speak for "keep it simple." Overstuffed chairs and shabby chic slipcovers may overpower a small living room.
Related posts: