Small Window Seat Ideas
High-Low Custom Window Seat Ideas
December 5, 2021 – 02:33 pm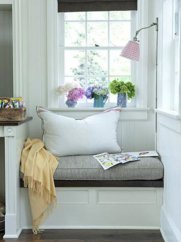 For integrated seating and storage, a 9-foot span of this Atlanta guest bedroom was outfitted with a custom built-in window seat. To keep costs low, basic paint-grade plywood was used for the construction, freeing up enough budget to splurge on a custom cushion, window covering and pillows.
Lumber Selection
One of the best ways to save on your custom window seat is with lumber selection. If the intended look is naturally stained wood, you'll need higher quality, stain-grade lumber, which can average approximately $50 for an 8 x 4-foot sheet. Painting your window seat will help lower materials costs, as paint-grade plywood sheets average less than $35 per sheet.
Custom Seat Cushion
While ready-made seat cushions are budget-friendly, they're limited in regard to size and color selection. For a perfect fit, it's wise to invest in a custom cushion made with 2-inch to 3-inch foam for extra comfort. To ensure longevity, consider sticking with textured wovens or solids in classic neutrals, such as white, taupe, navy, charcoal or blue-gray. A seat depth between 18 and 22 inches is ideal for lounging comfortably.
Coordinating Fabrics
Turn your window seat into a designer-grade focal point with coordinating fabrics. Here, the same palette flows from the white seat cushion to the blue-gray, charcoal and silver throw pillows, and upward onto the embossed lattice Roman shades. With each shade being slightly different yet still in the same color family, the effect is relaxed, collected and balanced.
Window Covering
Roman shades are an excellent choice for dressing windows with integrated seats. Since drapery will extend all the way down to the seat cushion, it's likely to become tattered and pulled when someone is seated. Roman shades, on the other hand, can be raised and lowered without impeding the seating area. Classic or traditional rooms are an excellent fit for relaxed-edge shades, which have a slightly scalloped detail along the bottom; transitional and modern spaces are best fit for a flat Roman shade, which is characterized by a perfectly straight edge along the bottom.
Complementary Trim
The key to making a custom built-in window seat appear original to the home is to take cues from the home's architecture. Here, the same molding used around the windows was added along the front of the window seat in similar proportions, resulting in a seamless look. Molding is sold by the linear foot and is installed by mitering the edges, attaching it with liquid bonding adhesive, then caulking the edges to fill any gaps.
Wire Management
The term "wire management" is frequently used when describing furniture made for use with electronics or media. With laptops and tablets quickly becoming the norm for catching up on news and novels, it's smart to integrate wire management into built-ins and window seats. To do this, purchase a desk grommet from the home improvement store, then use a drill with a paddle bit to add a hole directly through the top or side of the window seat before inserting the grommet, allowing easy access to outlets.
Hidden Storage
Put otherwise dead space to use by incorporating storage into your window seat. To do this, break the top surface of the seat into sections, then install each section with piano hinges. When closed, seat cushions will conceal the seams, and when opened, easy access is granted for storing items inside.
Pillow Talk
High-end fabrics can add major style to a window seat, but luxury textiles can cost well over $100 per yard. To keep costs low, try using a high-end fabric on the fronts of your pillows and a cost-saving solid along the backs. In addition to keeping the budget in check, this allows you to change up the look of your window seat by simply flipping the pillows.
Related posts: