Sitting room Interior Decoration
Living room lighting with Chambers Interior Design
September 2, 2021 – 03:57 am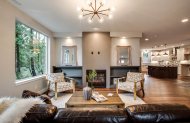 With the backdrop of the Northwest wilderness to use as a canvas, this modern Portland, Oregon home is a wonderful example of when innovative design reflects its natural surroundings. In this first post featuring Chambers Interior Design, owner Rene Chambers takes us through her approach to design and lighting. By incorporating an aesthetic that distinctly defines Northwest living, the look comes together in a way that feels natural and balanced.
Starting with the exterior, what makes this outdoor retreat particularly striking is the use of textures and warmth-from the natural cedar treatments to the pops of colorful Sherwin Williams paint.
And for the interior spaces, Rene went with an assortment of various design elements to further cement the Northwest look and feel. Featuring an intriguing blend of the old and new, each piece of decor has a specific goal and purpose. The elements of the room compliment each other, with the light fixtures comparing and contrasting to the overall design.
Living room lighting 101: Make a statement
Using a warm, earthy color palette, she transforms this living room into a comfortable living space with a distinctly Northwest vibe.
"The real star of the room is the fabulous Boudreaux light from Elk in matte black with antique gold accents." -Rene Chambers.
Living room lighting 101: Go minimal
The comfy lounge area needs to be functional, yet inviting. Accenting the wall in a cork plank frames the woodsy setting, which continues the rustic outdoor theme. The semi-flushmount light balances the room with minimal style and impact.
Office lighting
If it ain't broke, why fix it? Rene uses the same source for the office to create a non-invasive light source.
Shop the look
Related posts: