Room layout ideas for Small bedrooms
Design Dozen: 12 Clever Space-Saving Solutions for Small Bedrooms
October 5, 2021 – 05:36 am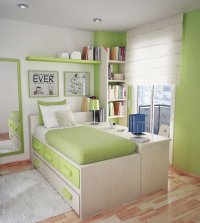 If you're dealing with a common small-apartment problem — a bedroom scarcely large enough for a bed, much less anything else — look no further than this list of clever space-saving solutions. These are some of the best ideas we're seen for tucking away all the stuff that tends to accumulate in a bedroom, and ensuring that your sleeping space will be calm and restful.
Related Video: Check out a small but truly awesome bedroom!
1. A nightstand that mounts on the wall is perfect for a small bedroom. The open space underneath the nightstand visually enlarges the space, and you can also stash things like shoes and books underneath. Mounting a lamp on the wall frees up space on top of the nightstand.
2. No room for a nightstand beside the bed? Hang shelves on the wall instead. In the room above, wall shelves provide a catch-all for books and other sundries in a super-narrow sleeping space.
3. For even more storage, consider hanging shelves up high that run the length of the room. You won't loose any floor real estate at all, and you'll gain a lot of storage space.
4. A deep window sill can do nightstand duty in a narrow room.
5. Here's an idea for a nightstand that takes up even less space — a simple shelf beside the bed.
6. A deep wall-mounted shelf can double as a desk, if you're okay with perching on the bed while working.
7. Make a nightstand do double duty as a desk.
8. Why not re-claim the unused space above your headboard? Here, a shelf mounted above the bed adds extra storage, and lights underneath free up nightstand real estate. A word to the wise, though: if you're a fan of reading in bed, make sure that the shelf is mounted above the height of your head when you're sitting up.
9. These homeowners did one better and added cabinets above the bed. I especially like the idea of the IKEA Trones as nightstand — shoe storage and bedside catchall all in one.
10. If your apartment is lacking in closet space, wardrobes flanking the bed can go a long way towards making up for it. They also provide a nice, built-in look. (And if your bedroom is even smaller than the one pictured above, skipping the nightstands and just placing the wardrobes on either side of the bed, like the folks from Young House Love did, is especially cozy.)
11. For window treatments, try layering shades and light, gauzy curtains for a window treatment that's cozy but not bulky.
12. Keeping the color palette simple ensures that your small bedroom will remain restful and calming.
Related posts: