Living room with Sectional Ideas
10 thoughts on "What to Hang Above a Sectional Sofa"
August 8, 2023 – 03:29 pm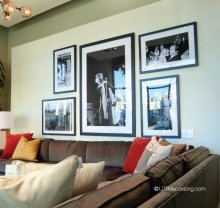 When you have a large piece of furniture such as a sectional sofa, you need to make sure that whatever you hang above it is substantial enough to visually match the weight of your sofa. In some cases, one large piece of artwork will do the trick, in other situations a series of pieces are needed to fill the large wall space. To help visualize your display, lay the pieces out on the floor or map them out using Painter's tape to determine the best possible arrangement before hanging them. You'll be amazed how quickly you'll be able to confirm if the dimensions of your piece (or pieces) are right.
When choosing artwork for your walls, don't limit your choices to picture frames — consider canvas, mirrors, clocks, wall shelves, and any other objects that will fill the space.
On a recent trip to Montreal, I saw this gigantic sectional sofa at Mitchell Gold + Bob Williams with very large-scale black and white photographs hanging above it. Photos of celebrities such as Mick Jagger, Jack Nicholson, and Bette Midler brought this living room to life and you could feel the energy buzzing around. All the pieces were framed in the same black wood frames style to create a cohesive and timeless grouping.
A sectional sofa doesn't always need to have a large blank wall behind it. In this living room a large window combined with wall shelves become the art itself, nicely balancing out the size of the sofa. The mix of different objects and pictures displayed on the shelves gives the room a relaxed and eclectic feel. Image credit: Saa Kurkista
Here, only one large piece of art is hanging above a section of the sofa, which creates the main focal point for the living room. In general, having one large piece on a wall is more soothing and formal than having a grouping, as it's easier for the eyes to focus on a single piece rather than multiples. Image credit: My Paradissi
Art doesn't have to be expensive to be impactful. This trio of large wood boards displayed behind the sofa is simple, fun, stylish and the perfect size to visually counter-balance the large U-shaped sectional. Sometimes it makes sense to splurge on big pieces such as a sofa and save on other items such as artwork and accessories. Image credit: Bassett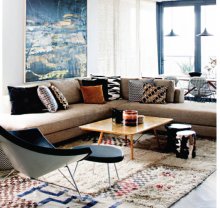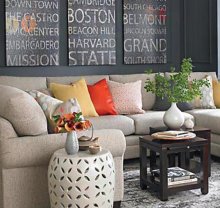 Related posts: