Ideas for Arranging Living room Furniture
Arranging a Living Room You Can't Wait to Come Home To
January 11, 2022 – 12:15 pm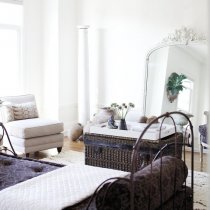 When guests come to my house, they immediately congregate in the living room. (Mostly because my home is smaller and the living room is really the only place to hold large groups.) Over the years, I have learned which pieces of furniture are important and whaich I can live without.
Recently, we had some friends over to watch a movie. I noticed that I had lots of places for people to sit but not enough spots for them to place drinks and popcorn. The next day, I was inspired and set out to find a new system for my living room.
When setting up a living room, there are five major furniture pieces that you should consider primarily: The sofa, coffee table, accent chairs, side table, and media console. These five key componants will give way to a cohesive living space. Once these pieces are in place, you can go ahead and embellish the space with rugs, accessories, lighting, and art.
One of the most important pieces in a living space is the coffee table. It anchors the entire sitting area. When choosing a coffe table, you don't neccessarily have to go traditional. Consider alteratives like large vintage trunks and upholstered ottomans. Cailtlin Flemming (seen in Rue Magazine) used a large wicker trunk in the living space seen above. It brings personality and comfort to this traditional space.
Another key furniture piece is side tables. They can hold drinks, magazines, books, and other odds and ends. Cassandra LaValle used a smaller white accent table in this space, which compliments this living room without taking up too much space. A great piece fits the room like a glove rather than sticking out like a sore thumb.
When choosing cushions for your sofa, I recommend odd numbers for a stylish yet classy look. Try one, three, or five, depending on the size of your sofa and the look you're trying to acheive. A cool yet easy combo is one matched pair of square pillows (most likely solid) that brings contrast with the color of your sofa, an oblong pillow, and two patterned or oddly shaped that bring out the colors of your upholstery or other hues in the room.
When choosing a rug, create a layout and measure for your rug based on the space you'd like to fill. In a living room, your rug defines the area, and should be big enough so at least the front legs of the furniture are on it. If you prefer the rug to be placed in front of the couch, it should run the same width or a little longer than the couch.
And finally, the pièce de résistance of the living room: the sofa. A sofa can really make or break a space. When choosing one, consider width, depth, and material. A sofa that's too small can create a lopsided room, while the wrong material can jeopardize comfort and or be hard to keep clean. If you need to double check the size before purchasing, cut the exact size and shape out of brown paper to make a template and lay it on the exact spot where the sofa will go. Also, leave the bright colors and patterns for your chairs and allow your sofa to be the calm, neutral piece of the room. You'll save a lot of money and not have to switch it out once you're tired of it.
Related posts: