Arranging bedroom Furniture
Top Tips for Organizing the Bedroom
November 7, 2021 – 08:01 am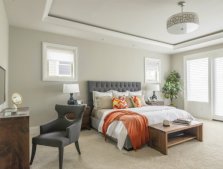 Clutter conquered, it's time to get organized in the bedroom and stop clutter from creeping back. The bedroom is our most private and personal home sanctuary. Focus on the room's function — rest, relaxation and renewal — with these ideas to arrange and organize bedrooms.
Given the bedroom's function as a haven for rest and relaxation, harsh overhead lights have to go. Reading lamps and indirect lighting will enhance comfort and induce a sense of calm.
Arrange furnishings to support the activities you'll conduct. Add a row of hooks next to the treadmill to hold exercise clothing, pulse monitor and towel. Set up a restful reading spot on the bookworm's side of the bed, with reading lamp, extra pillows, a basket for books and magazines and, on the nightstand, a coaster for his or her mug. Use hanging pegs and desktop organizers to create a cosmetics center on top of a bureau; hang jewelry, scarves and hair accessories for a neat and pretty touch.
Often, bedroom furniture is purchased as a suite of multiple pieces — and you'll find every blessed one of them crammed into many bedrooms, space notwithstanding. Pare down bedroom furniture and release living space by dispensing with the idea that a furniture suite cannot be separated. The extra tallboy or spare bureau can do good service in the entryway or hall, where it won't cramp your style or your night's sleep. "Mix and match" works as well in the bedroom as in the closet.
Commercial organizing products are available to slide neatly in the space beneath the bed, or check the restaurant supply store for sturdy, inexpensive bus trays. Use them to store handbags, out-of-season clothing, bulky sweaters or gift wrap.
Be sure the bedroom includes basic safety supplies: a nearby smoke detector, flashlight and batteries, and for upper-story bedrooms, an escape ladder. Tuck safety supplies beneath the bed to avoid stumbling around in the dark next time there's a power outage. A tip from earthquake country: Never retire for the night without placing robe and slippers near the bed.
When selecting bedroom furnishings, look for double-duty solutions that will add storage space to the bedroom. A bed headboard that doubles as a bookcase keeps a bedtime reader's books close at hand. Toss a long cushion over a cedar chest, and you'll create a seating area and storage in one. Add a fabric skirt to a dressing table to conceal a small rolling drawer organizer.
Related posts: