How to Decorate the Sitting room?
How to Decorate a Living Room Like a Cottage
March 28, 2022 – 03:26 pm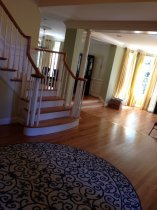 Decorating a living room like a cottage is a great way to give a space a warmer, cozier look. Decorate a living room like a cottage with help from an interior and life designer in this free video clip.
URL: Embed:
Video Transcript
Hi, I'm Carol Ruth Weber of Weber Life Design and we're here at Safavieh Home Furnishings wonderful outlet center and we're going to be talking about decorating a living room to appear like a cottage. A cottage is a type of look where you walk into a farmhouse and you just feel like you're already at home. You want to mix woods and iron and all different pieces together to create a comfortable feeling so when people come in they actually almost feel like they live there. You want oversized furniture that they could just sink into. Colors are fine. You could, if you would rather neutrals mix and layer. You want to layer patterns, you want to layer neutrals. Bright whites can be mixed with creamy whites, taupey whites, grey whites, and you could just have fun layering these, these neutrals. If you want colors the same thing. Mix your patterns, mix floral with gingham and a stripe. Use a beautiful linen white. Even use bold patterns and buy beautiful tapestry pillows and really create a really one of a kind appearance for your cottage décor. Scour grandmas attic and have fun because there's so many hidden treasures that you will find. How about grandmas old quilt that she did maybe a 100 years ago and you can have that in your abode and really show it off and everyone will be envious of you. Maybe grandma loved crocheting doilies, Well now you can take these doilies and use them for your own cottage décor. Dress up tables, dress up chairs, and really have fun. Mix and match patterns that's fine. Keep it very soft and comfortable and use cotton fabrics or a linen fabric for a very natural look. Furniture cab be great too. If you find beautiful furniture in the attic or shopping thrift stores or vintage shops you can even paint the furniture. You can mix wood and you could paint furnishings in a high gloss enamel which will create a more contemporary cottage feel or use a distressed finish such as this piece or crackled finish and you could really bring it into your own look. Well enjoy yourself, whatever you do have fun with your decorating and be very happy with what you come out with because everyone else will be impressed and you could just shine with your décor and never be afraid to dance.
Related posts: