How to Decorate a Rectangular Living room?
Awesome Rectangular Living Room Designs
May 15, 2022 – 04:56 pm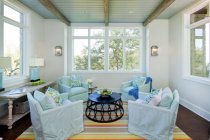 Are you weary of your not-so-good-in-shape rectangular living room? It's time to revamp it in style by adding a modern touch. If you have a rectangular living room that is small, narrow or long, you can give it an attractive makeover, with these valuable tips and tricks. Your living room may not be in perfect size or shape, but you can still achieve a decent look by creating balance with the décor and color palette. You may also see
Small Rectangular Living Room
Cornerstone Architects
Light color plays an important role in making this small space look bright and airy. Having windows on all three sides also helps in this case. The pale blue colored room, with a dash of moss green and deep blue, makes a perfect beach style living room.
Rustic Rectangular Living Room Furniture
Dawn Hearn Interior Design
The two armchairs placed in front of the window at the end, make a stunning look. The wooden beams and the earthy shades capture the natural essence of the beautiful landscape outside. You may also see
Rectangular Living Room Chandelier
Honeybee Interior Designers
A chandelier is a great way of creating a focal point in a small rectangular room. This multi-colored classic piece of crystal does exactly that; thus steering clear of the closed space.
Rectangular Living Room Wall Units
eladgonen.com
The built-in wall units offer an excellent choice for storage in a rectangular living room. They help keep the room clutter free and provide enough space for free flow of foot traffic.
Classic Rectangular Living Room Design
Patrick Ahearn Architect
The age-old formula of an all-white living room always works in creating an elegant look. A pop of gold and coffee colors helps break the monochromatic feeling.
Large Rectangular Living Room Idea
Tate Studio Architects
This uber-chic living room done in subtle shades of gray feels warm and cozy even in large open space. The lovely orange colored area rug creates a central point of attraction. Contemporary chandelier and recessed lighting are used to illuminate this large room.
Formal Rectangle Living Room
markkitching.com
The dark colored living room in contrast to the bright light from the glass doors with a pool-side view makes a striking appearance. The dark feature wall, the rug and the furniture in shades of gray set the tone for a formal living room.
Long Narrow Living Room
zephyrinteriors.com
The sofa pushed to the wall and the armchair angled towards the windows suit perfectly in a long living room design. The huge piece of artwork and the area rug help break the narrow, tunnel-like feeling in the room.
Rectangle Living Room Interior Design
Borden Interiors & Associates
Pistachio green and bright white colors add an energetic vibe to the living room. The trellis rug and the decorative pillows add beautiful texture. The hand-woven armchair and ceramic stool showcase a blend of traditional and modern ideas.
Rectangle Shaped Living Room Idea
Pearson Design Group
An open fireplace separating the living room from the kitchen is an excellent idea of a contemporary living room design. The floor-length glass windows with a breathtaking view of snow-capped mountains set a picturesque background to this .
Traditional Living Room Decorating Idea
oliverburns.com
Spacious Rectangular Living Room Design
Ben Herzog Architect, PC
Farmhouse Rectangle Living Room
Four Seasons Design Team
Modern Living Room with Fireplace
CBC Builders
Transitional Living Room Design
Photo by Travis Stanley
Lavish Living Room with White Sofa
R.S. Stapleton Co
Contemporary Living Room Furniture Idea
Ana Williamson Architect
Rectangle Living Room Floor Design
litchfieldbuilderssb.com
Black and White Rectangular Living Room
Photo by Douglas Williams
Luxurious Living Room Idea
homesbyavi.com
Beautiful Living Room with Hardwood Floor
Positive Space Staging + Design Inc
Tips for Interior Decoration
There are certain tricks used by professional designers to turn a rectangular space into the comfortable living room. You should keep the entrance of the room free from obstacles, to allow foot traffic to move easily. It's best to arrange the furniture to one side of the living room in order to avoid people bumping straight into those who are sitting. This helps in case of a long living room hallway design. Placing furniture on an angle works well with narrow rooms. The size and shape of the furniture also matter, when decorating narrow rectangular spaces to avoid the feeling of a corridor.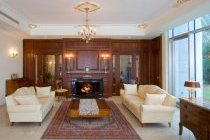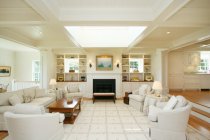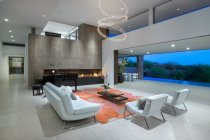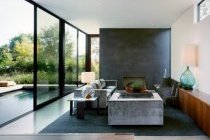 Related posts: