Help Decorating my Living room
5 Tips for Decorating Your Home Together
August 30, 2022 – 09:01 am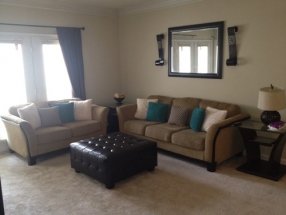 Moving in with your partner is exciting. It's fun! However, it can also be frustrating when you realize your interior design preferences don't quite match up as well as your personalities…Where you might imagine placing a lovely antique armchair, your significant other may envision a green leather recliner (cup holder included). Needless to say, couples won't always see eye-to-eye on every design decision and compromise is key. (I should know, I just moved in with my guy.)
As a woman it can be difficult to let go of your natural inclination to lean toward more feminine touches when putting together a home. If you're like me, you just can't help yourself when it comes to throw pillows (the more the merrier!), dust ruffles, and scented candles (vanilla and peony, please!). Also pink. Nevertheless, there is a happy balance that can be achieved—one that isn't too girly or too manly—and I am going to share a few of my best pointers with you along with some inspiring photos of man-friendly interiors…
5 Tips for Decorating Your Home Together
Take an inventory.
Before you go shopping or decide on a collective "look, " it's a good idea to know exactly what you're working with and what you might want to get rid of.
Find inspiration.
When I first moved in with my guy I created a board on Pinterest where I pinned images of rooms that I really liked (and thought my guy might like, too). I included furniture items that I was drawn to as well as color schemes. Then I presented this board to my other half and had him explain why he did and didn't like each pin (at the time I only had about 20 items pinned). This was a really useful exercise because it helped me understand which things he could tolerate (chevron stripes) and which things he couldn't stand (tufted couches—tear). It also helped us uncover a mutually agreed upon aesthetic that we could use as the base to build our home around.
Go shopping together.
To make the shopping process fun we would scope out local antique stores and flea markets to ensure that everything we added to our home felt authentic. We also found that we could make more levelheaded decisions about furniture purchases when we were both present (this also helps to avoid arguments down the line). Definitely, definitely go shopping together. You might be surprised to learn that your guy has a very discerning eye…
Buy a sturdy coffee table.
I was set on getting a Lucite coffee table when we first moved in together. Hell bent, as some might say. However, after an enlightening afternoon with my mother (who happens to be an interior designer herself), I learned that having a sturdy coffee table in the living room is important to a guy because as my mother put it, "he needs to feel like he can kick up his feet when he's at home." Naturally the thought of my guy with his feet propped up on my Lucite coffee table brushed through my mind…Terror. I finally folded and we ended up getting a really cool aged metal table that he doesn't need to tiptoe around. I think he really appreciated my ability to recognize his needs and accommodate. The moral? Be practical and considerate, it will always pay off. Oh, and get a sturdy coffee table!
Make it personal.
While the idea of living in a Pottery Barn catalogue is alluring, the fact of the matter is that "home" should feel like your home. Think about the things that are special to you as a couple and individually and figure out how to work those elements into your new place. For example, my guy and I love music so we purchased a vintage turntable and now have a wonderful little nook dedicated to our favorite records. Or if you're particularly inspired, give one of those off-the-wall DIYs you saw online a try together as a team (Or perhaps one of Lauren's Crafty Creations). Either...
how london underground was built
where to find tech jobs
how much phone watch
why startup fail
how to explain a teacher
where company is a sham
how many manager does wizkid have
how many technology are there in the world
where is origins product from
how much project manager earn in india
where to solve word problems
why development plans are important
where device name
how many management theories are there
how much startup capital for small business
what business to start
how business loans work
where science has lease
what startup selection should i use
who engineering works
where do the best engineers work
why device charging slowly
where to find device manager in windows 10
what science is taught in 9th grade
where to find system services on iphone
how much solution for tb skin test
where to sell tech
which project management software is best
what teaching positions are in high demand
where the solutions to the identified problems presented
how often to use newa device
how much london trip cost from india
whose methodology of teaching experimentation is the key note of
how manager treat their staff
whom pronouns
how far phone from apple watch
who is engineering explained
what product is good for frizzy hair
who is the greatest entrepreneur
what company is enhypen under
where's the london stadium
where startup folder in windows 8
how much london bus
what products to use for skin cycling
how many products does amazon have
Related posts: