Great room furniture placement
Anchor the family room with a 'floating' furniture arrangement
January 19, 2021 – 06:53 am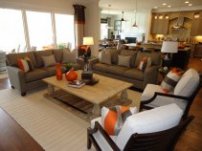 Challenge: Open floor plans, though still popular, put design skills to the test because there are few walls to place furniture against. On the other hand, small spaces can feel as though the walls are closing in. Proposed solution: Pull furniture away from the walls and "float" it in the room. In an open floor plan, this provides a cozy seating area. In a small room, it creates the appearance of airiness. Bigger challenge: Getting the proposed solution to work.
Airy arrangements
Angling furniture into floating arrangement can drastically change the ambience of a room. "When seating arrangements are placed against the walls, conversation groupings can become awkward and difficult, " says Sandra Collins, president of SCI Design Inc., 11900 N. Santa Fe, in Oklahoma City. "Pulling furniture away from the walls and into smaller groupings adds a coziness to the area, promotes conversations and frees up the perimeter for accent pieces and walkways." For the average person, and even for pros, a successful outcome "requires a lot of arranging and rearranging, " says designer Dawn Falcone, also of New York. "You have to set aside time to work with your furniture. Sometimes just pushing something back one inch makes all the difference in the world."
What doesn't work
Some rooms may not be a suitable size or shape for the floating arrangement. "I usually shy away from floating furniture in a
long narrow room
that would inhibit pathways through the space, " says Collins. She adds that many rooms may have some architectural details that could interfere with arranging plans such as windows and built-ins. Another challenge to consider is proper lighting. "If there are no wired in outlets placed in the center of the room for incandescent lighting, it could inhibit a good lighting plan, " says Collins. Consider the obstacles and determine whether or not the floating arrangement would be a good fit for your space. "It's really an architecture-driven thing. If the room is big and open in all directions, a floating floor plan works great, " says designer Scott Salvator, also of New York, though an island of furniture in the middle of the room requires at least 3 feet of walking space around the perimeter.
Find the focus
To begin experimenting, remove everything from the room except your largest furnishings, such as your sofa and love seat. Identify the room's focal point, or create one. In a living room, it's usually the fireplace or television. The focal point is your anchor, Falcone says, and guides the placement of your remaining furniture. Generally, the sofa looks good directly across from the focal point, facing it at a comfortable distance. Other pieces can then be angled toward the focal point or oriented around the sofa to create a balanced arrangement conducive to conversation. v An area rug can be used to define and unify your arrangement, Falcone says. With your primary pieces in place, you need to figure out how to use the rest of the space. "In a huge room, if everything's in the middle you need to have other groupings of furniture, " Falcone says. Against one wall, you could place two chairs with an occasional table between them, for example. In the best-case scenario, these groupings would accommodate other activities, such as reading, Falcone says.
Related posts: