fireplace and tv placement
Placing a TV Over a Fireplace
October 23, 2021 – 07:06 am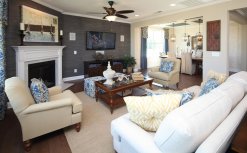 If you plan on burning a fire while watching TV, it's important that the place you'll be hanging your TV doesn't exceed the recommended temperatures noted on the unit's technical specifications. Too much heat adversely affects a TV's lifespan and creates a situation that may void product warranties. To check surface temperature, tape a thermometer onto the wall or fireplace face when a fire's blazing in the hearth. If the temp is higher than what's recommended, you may want to forgo the TV-over-fireplace idea. Or go ahead with the plan, understanding that you won't be able to watch flickering flames and TV programs at the same time.
Consider viewing height when placing a television. Ideally, televisions should be set at the eye level of seated viewers, but unless you have a very low mantel, this placement probably won't be possible. So double-check the angle by taping a paper template the size of your TV in the preferred location. Sit in your favorite chair and stare at the template for a while; if you experience neck strain, consider placing the TV somewhere else. Or invest in a mounting system that lets you tilt the TV to improve viewing angles.
TV Installation and Safety
There are a number of different methods and mounting systems that allow you to easily place and hang flat-screen TVs. Select a mounting system designed to suit your TV's weight and size to ensure the unit stays safely secured to the wall. Got a deep mantel? Place your TV in a stand and put it on display. Consider power sources and how you will manage electrical wires, cable systems, and sound equipment. If there's no power source nearby, you may need to call in an electrician to install electrical receptacles. Consider hiding wires and cables using a bridge system that carries wiring behind the wall surface. Focal points should look pretty, so hide as much technological clutter as possible and integrate the TV into your decor.
Integration Ideas
Set the television into a wall recess or behind a pair of accordion-style folding doors. Add a mechanized panel that rises and falls to hide and expose the screen with the touch of a remote-control button. Choose TV frames, cabinet doors, and mechanized panels that mirror finishes and materials already in the room to create a cohesive scene. Employ technological advancements, such as motorized artwork that rolls up when you want to watch a favorite program or mirror panels that disappear when the TV is turned on. Add fireplace-framing built-in bookcases to hide electronics and distract attention from an oversize TV screen.
Related posts: