Coffee Table Ideas for Small Spaces
7 Decorating Ideas for Small Spaces
July 6, 2021 – 11:19 pm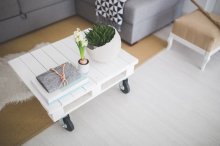 The beautiful thing about small apartments is they inspire insanely creative decorating ideas. There's an intuitive urge to make the most of tiny spaces, and that drive creates really cool, really efficient use of space. These seven sweet decorating ideas are just a taste of that unfiltered inspiration.
Rolling Coffee Table
In a small apartment, you have to be able to rearrange on a whim. Whether it's to make space, add seating, or simply adjust the vibe. A mobile coffee table gives you that flexibility. It can be a garden in the spring, a game table in the winter, or an extra seat when your friends come over to party. It can sit in the entryway to store your car keys, wallet, shoes, and other out-the-door necessities. Or, it can double as a dinner table for thai-noodle night. This little DIY table is a perfect (and cheap!) example.
Mini Shelves
Mini shelves add depth to tight spaces. You can squeeze them into windows, corner tables, countertops, or work tables. They create nifty little pockets to store things like books, dishes, and art. This tiny office space gets three extra levels of tiered plants just by adding a mini shelf.
Succulent Gardens
There's a succulent craze going on right now, and for good reason. Sure, they look cool. And, yes, the green hues have a brightening effect. But succulents are really special because of their ability to filter toxins from the air while pumping out plenty of fresh oxygen. They literally breathe life into a suffocated apartment, making the whole place look and feel better.
Reflected Light
Spread natural light throughout your apartment with plenty of mirrors. Point them at windows to reflect sunlight back across the room. Big, small, framed, or hanging naked on the wall – they'll make a big difference by adding light and character to your space.
Open Storage
Open up your kitchen, office, or bedroom by opting for open storage. Shelves, basket hangers, and clear cabinet doors take up less room than a dresser or extra cabinet and leave plenty of room for the eye to wander.

Cool Kitchenware
Rustic cutting boards, chic serving bowls, and decorative plates will turn your kitchen into a work of art. Serve up Pinterest worthy meals (#plated), then wash and store on open shelves, counter tops, or wall hangers to add an artistic touch where there may not be room to otherwise.
Floating Displays
Use floating shelves and bookcases to fill empty walls. They can display collections, mementos, books, art, coffee cups, and anything else that hasn't found it's place in your apartment. As they say… a place for everything and everything in its place.




Related posts: