Apartment Decorating Living room
Decorating an Apartment Living Room on a Budget
January 25, 2021 – 08:31 am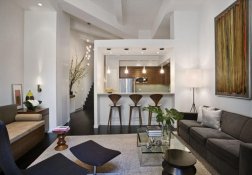 Once you've got yourself settled into a new pad, decorating an apartment living room may be the first thing on the to-do list. The white walls are just staring at you, and you're looking for a little apartment living room inspiration. In most rental units, painting is a no-no, but there are plenty of other ways to add vibrancy to your living room without saying goodbye to your security deposit.
Revamp Your Furniture
Okay, so you can't mess with the color of the wall, but why not add a pop of color to your coffee table, side table or bookcase? You'll first want to pick two or three colors that will be the theme, and then it will be easier to come up with apartment living room ideas for the decor. Say you've chosen a bright yellow, aqua blue and olive green–this cohesive color scheme can be represented in bold fashion by painting your coffee table yellow and side tables in green. Add throw pillows and drapery with similar hues for accents, and you'll never notice your walls are white!
Use Your Belongings as Decor
When money is sparse and so is your apartment, using open storage is a great way to add your personal character to an apartment. Cubicle storage units are great because you can use bins to hid away things or just display anything you want. Add a couple decorative items like a clock, picture frame or vase, and it will mesh perfectly together.
Add a Tapestry
A large tapestry is a great way to add color and pattern to a dull living space. Some tapestries can run well into the hundreds, but you can find inexpensive and beautiful ones online or at places like Urban Outfitters. Need a hanging tip? To make the tapestry flow better along the wall, hang a curtain rod. This will make it look classy and stylish, as well! Is a window your focal point? You can just as easily add a "curtain illusion" with several sets of drapes along a wall, each in a different pattern or color. Hello luxury.
Ideal Placement
Having an open-concept space is great, especially if you love to entertain people, but it can be difficult to decorate. Determine what area will be a living space and dining space, and separate it with a large open shelving unit or console. You've now got two rooms wrapped up in one!
Related posts: