Sitting room arrangements
The hangout zone of your home can be hard to arrange
January 22, 2021 – 06:53 am
You can fake one with your choice of clever work-around. The idea is to create a pause before the seating area. Check out two solutions below.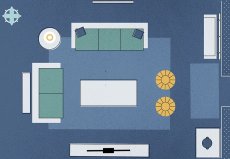 Solution #1: Introduce an Entryway
Position a rug and some key pieces of furniture just inside the front door.
Set Up Drop Zones: Bookend the doorway with two greeting areas. "A bench-and-hooks combo on one side lets people know right away that this is an entry area, " says Shea McGee of Studio McGee in Salt Lake City. On the other side, place a chest of drawers with a tray on top for grab-and-go essentials, like sunglasses and keys, and a mirror above "for that last check on your way out."
Bridge the Gap: Center a rug between the drop zones to help define the "foyer." "I like a rug that's a foot wider than the door-way on either side, " says McGee. "Any smaller and it can feel puny, like a doormat."
Add Strategic Sitting: Connect the foyer and the main living area (couches plus TV) with a pair of poufs or low stools. "It's cumbersome to have to walk around a sofa or two big chairs, " says McGee. "And those pieces would also block your view of the room."
Solution #2: Block With a Bench
Set up a divider—a bench, a bookshelf, or a console—and lay down a runner to carve out an entrance corridor.
Bring in Greenery: Pop a plant into the corner facing the entry door to fill out that blank space. It's in your line of sight when you walk in, so it makes the room feel instantly welcoming, says Amber Lewis of Amber Interiors in Los Angeles. (A snake plant is a good option if that corner doesn't get a lot of light.)
Decorate With Doubles: Structure the main seating area with some symmetry: a pair of end tables with lamps flanking the sofa, a pair of accent chairs on either side of the coffee table. "Symmetry looks deliberate, so it helps define a space and makes it seem finished, " says Lewis.
Anchor the Main Area: Lay down a rug in the middle of the larger seating section to establish it as a separate space. "I like the outer pieces of furniture to rest partially on the rug, " says Lewis. "The room feels more easygoing, less stiff that way."
Problem: If Your Living Room is Super Long and Narrow
Divvy up the space to get the most out of the oddly shaped square footage. Opt for either two defined spots or a more fluid layout. Take a look at some ideas below.
Solution #1: Rectangle + Circle
Section off the room with dual, seating-heavy groupings—a linear one and a piecier one. Filling out the space actually makes a room feel less confined, says McGee.
Start With a Pair of Sofas: Set up the main seating area with two same-size couches and a coffee table in between. "Some people like a sectional to squeeze in more seating, " says McGee. "But in a tight room like this, it makes traffic flow tricky. A pair of sofas opens up the space better."
Create a Circle Seating: Turn the second half of the room into a loungey area with four accent chairs surrounding a cocktail table about 18 inches high. "It gives you an intimate spot for conversations or playing cards or board games, and it balances the other side's chunkier setup, " says McGee.
Add a Flowing, Organic Element: Ground the accent chairs and cocktail table with a cowhide rug. "The curvy shape helps a narrow room feel less boxy, " she says.
Related posts: