layout your room
Your Room: Express Yourself!
April 19, 2021 – 04:28 pm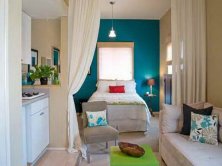 Each multiple person room has a loft unit, desk, dresser, closet/wardrobe, chair, wastebasket, and a recycling trash can for each occupant. All rooms are carpeted* and have window shades. * Some residence hall rooms have no carpet in anticipation of meeting an ADA accommodation. Student without accommodations may be placed in these rooms.
Double rooms in the residence halls come in two basic shapes (These are approximations. Room sizes, shapes and layouts vary from building to building, even room to room on any given floor):
Rectangular, measuring approximately 17 feet long by 10 feet wide. These rooms are generally located in the high-rise sections of the residence halls.
Square, approximately 12 feet long by 14 feet wide. These rooms are generally located in the low-rise sections.
Virtual Tour

In addition, there are approximately 120 triple and quad student rooms located throughout the residence halls. These rooms are larger to comfortably accommodate multiple students. Residence rooms no matter their occupancy level are assigned on a random basis.
Virtual Tour

Our mattresses have a vinyl covering for health and sanitary reasons. Due to safety requirements, only RIT mattresses can be used. We recommend that you bring a cotton mattress cover to place over the vinyl covering. Mattresses in all rooms are 33 inches wide by 79 inches long. All rooms have window shades. If you want to purchase drapes, we recommend that you wait until after you have seen your room. Some student rooms have one window, and others have two. Window sizes vary depending on the residence area.
Furniture
Piece
Dimensions
Bed
84 1/4" long x 36" wide x 71 1/2" high
(Mattress: 79" long x 33" wide)
Dresser
24" long x 22 1/2" wide x 50" high
Chair
N/A
Desk
42" long x 28 1/4" wide x 28 1/4" high
Drawers
17" long x 28 1/4" wide x 28 1/4" high
Organized vs. Unorganized
Room care and cleanliness are the responsibility of the students who share the room—one reason we ask students about their cleaning preferences. Rooms must be kept clean for health and safety reasons. Vacuum cleaners may be obtained from your resident advisor. The common areas of the buildings (bathrooms, lounges, etc.) are cleaned regularly by Facilities Management staff.
Each room is inspected at the start of the school year. You will be asked to complete an online inventory assessment form verifying the condition of the room. To properly check out of your room, you need to return your room keys in a completed key return envelope available at the Housing Operations office in Grace Watson Hall, and remove all your personal belongings.
Pets
Out of consideration for other residents, we do not allow animals other than fish and service animals in the residence halls. The tank size should be no larger than 10 gallons. Please leave your piranhas, oscars, and other carnivorous fish at home!
TigerTV
TigerTV - live streaming that includes HBO, HBO GO, and Cinemax
Lighting
All rooms have an overhead light, but we suggest that you bring your own lamps. Torchier or any style lamp(s) that use a halogen bulb 300 watts or more is prohibited. Torchier style lamps that use a compact florescent or incandescent bulb are permitted.
Connections to the RIT Computer Network
All residence halls have wireless network access. Additionally, an Ethernet jack is provided for every student in a residence hall room, which allows you direct access to the RIT network and the Internet. To access the RIT network, you must have an RIT computer account and agree to abide by the RIT code of conduct for computer and network use. Students are responsible for protecting their own computer systems with UL-approved surge protectors.
Storage
Storage space is not available. We suggest that at the beginning of the year you attempt to send home as much of your excess luggage, boxes, and crates as possible.
Personal Property Insurance
RIT strongly encourages all students to maintain insurance coverage for their personal possessions while attending school. RIT assumes no responsibility for losses of students' personal belongings.
Related posts: