Ideas for Lounge Rooms
Creative Ideas For Choosing Living Room Paint Colors
August 22, 2023 – 03:34 pm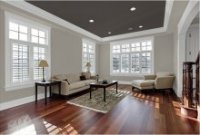 Lindsay Ballard
There's no question that paint can completely change the feel of a room. But did you know that the way you apply paint can change the room as well? It absolutely can! Using the Glidden paint Room Visualizer, we're put together some different living room paint schemes—so you can see what a difference paint can really make.
Let's start with a grouping of neutral, complementary paint colors. Here we are looking at Pewter Grey, Raindrop White and Forest Black.
The first inclination would be to use Pewter Grey on the walls, Raindrop White on the trim and Forest Black as an accent color. But what if we put Forest Black on the ceiling instead?
Lovely and classic, right? Let's see what happens if we flip this around and use Black Forest on the walls and Pewter Grey on the ceiling.
This living room paint scheme is also lovely and classic, but has a more moody feel than the first room.
What if we wanted more of a modern feel? Let's flip it again and use Raindrop White on the walls, Pewter Grey on the trim and Black Forest on the ceiling.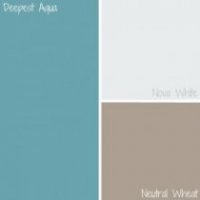 Way more modern, right? And we've used the same three colors in each room.
Let's see how this works in another room with a different set of colors. For the next grouping, let's try a set of colors with cool tones: Deepest Aqua, Nova White and Neutral Wheat.
Yourfirst thought might be to try a room with Deepest Aqua on the walls, Neutral Wheat as an accent color and Nova White on the trim. Here is how that looks:
This combination of colors makes a room with traditional trim look more contemporary. What if we swapped the wall and accent colors?
With Deepest Aqua below the chair rail, this room gets a little unique punch. Let's flip it all again and use Nova White on the walls and Neutral Wheat on the trim.
Isn't that unexpected? All three of these living room paint schemes are gorgeous.
Want to try it again? Let's look at some warmer colors: Honey Frost, White on White and Greycliffe.
The first application of these colors is a bright and cheery combination, with Honey Frost on the walls, White on White as an accent color and Greycliffe on the ceiling.
Although the ceiling is a small portion of this picture, the Greycliffe tones down the yellow on the walls.
If we swap the wall color with the ceiling color, we get a much moodier room.
We can also emphasize the fireplace with color. How about White on White on the ceiling, Honey Frost on the walls and Greycliffe as an accent color?
It's a totally different look, isn't it?
The lesson here is to think creatively when applying colors to your room. Even with living room paint schemes using three colors, there's a multitude of ways to use them in your space. If you want to visualize colors in your own room, upload an image to the Room Visualizer and play around. You'll be able to see your room in different paint schemes—before you even open a can of paint.
Related posts: