furniture placement for long living room
How to Decorate a Long, Narrow Living Room With a Fireplace on a Side Wall
January 10, 2021 – 06:09 am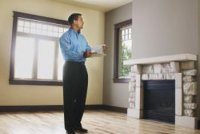 The fireplace and doorways in a long, narrow living room will define how and where to place furniture.
Large rooms can pose some design challenges, especially if you have more than one focal point in the room. However, there are also advantages when decorating an area that has more space with which to work, as this provides more options for furniture placement and coordinating accessories. The key to decorating a long, narrow living room is to make it functional while also unifying the space, even if the room is divided into separate sections. A fireplace provides a built-in focal point that will share the spotlight with other highlighted areas of the room.
Initial Considerations — Traffic Flow and Architectural Features
The first thing to consider when decorating a room is traffic flow. The existing entry and exit points or doorways must be taken into account so that the placement of movable furnishings won't impede the flow of traffic. If possible, walk through the room empty from one doorway to the next and try to visualize where furniture can be placed without making an obstacle course through which to pass. If sketching or designing a floor plan virtually, ensure to include the placement of doors, windows and any other permanent fixtures such as stairs, alcoves or fireplaces.
Fireplace-Focused Conversation Area
In a living room, a conversation area is usually designed around a focal point such as a fireplace, entertainment center or picture window. Large living rooms or great rooms sometimes have more than one conversation area. In a long living room with a fireplace on the side wall, one option is to place the sofa against the opposite wall and angle the other seating pieces on each side, creating a "U" shape or semicircle that faces the fireplace. Position a coffee table or a couple of ottomans in front of the sofa, leaving enough space for a person to walk between these items and the fireplace. Anchor the conversation area with a large area rug. End tables with lamps placed on each side of the sofa or between the sofa and other seats can provide task or accent lighting.
Dual Focal Points with Shared or Split Conversation Areas
If you plan to add a TV to this room, you have a few options. One option is to mount a flatscreen TV above the fireplace. This may require professional installation, especially if you have a brick or stone fireplace. Another option is to place the TV in a corner along the same side of the room as the fireplace. A third option would be to place the TV along one of the walls at either end of the room. The best placement option will greatly depend on the location of the doors and the traffic flow in the room. With the first option, the conversation area can remain the same as it is for the fireplace. The second option may require a few adjustments in the seating arrangement, opening the conversation area into more of an "L" or "J" shape rather than a "U" shape for comfortable viewing of both focal points. The third option may require two separate conversation areas, one focused around the fireplace and another focused on the television. Use another piece of furniture such as a tall sofa table placed behind a sofa or loveseat facing the television to help define and separate the two areas.
Divisions, Lighting and Color
Depending on how long and large the room is, you may opt for creating two or three different sections, as in the option of separate conversation areas for a TV and fireplace. For example, if one end of the room has a wall of windows looking out onto a beautifully landscaped garden or forest, you can create a comfortable viewing area there with a chaise lounge or a couple of chairs. Large indoor houseplants would love a sunny area like this. Another option might be to place a piano at one end of a long room to create a music area. Warm colors advance and you can use these colors on walls, furnishings and accessories to make a large room appear smaller and cozier. Warm colors consist of yellow, orange and red in all the varying shades and tints made from these hues. For example, paint your long living room in dark, earth tones such as brown, rust, copper, gold, burnt sienna, burnt umber, ocher, crimson or burgundy. You may choose instead to opt for lighter tints such as lemon, rose, coral, salmon or apricot. Ensure the bulbs in lamps, chandeliers or recessed lights are warm, with either a yellow or white light, as this will enhance the warm color scheme in the room.
Accessories
Once you have figured out the placement of the larger furniture pieces, you can begin to fill in the empty spaces with accessories. Use a large house plant to fill an empty corner. Smaller house plants add a touch of greenery around the fireplace. Create unity in multiple seating options or conversation areas by using throws, pillows and rugs with similar colors. This can also be done throughout the room with lamps that have the same shade shapes or candles with the same shape and color placed in different types of candle holders. Balance the similarities with a variety of textures and patterns in upholstery and fabrics. Large vases, urns or candle holders can be used to add interest around the fireplace. Enhance walls with framed artwork, shelves and mirrors. Just remember not to over accessorize the room. Empty space should be part of your overall design.
Related posts: