Decorating an Apartment Living room
Ideas for Decorating Your Apartment's Living Room
April 10, 2021 – 03:47 pm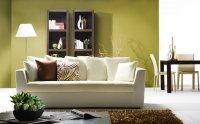 The average apartment does not give you much space. Your living room should exhibit a welcoming atmosphere where families relax while keeping in mind considerations such as lighting and space. With a little creativity, you can come up with ideas for decorating your apartment's living room on any budget, no matter how much or how little space.
Furniture represents the quickest and easiest solution to decorate your family's most habitable space. But what type of furniture do you want? And how can you fill those blank walls with interesting sights and colors? Sharpen your creativity and try one of many ideas for decorating your apartment's living room.
Making Use of Space
Do not let the sparse amount of space between your walls define your living room. You can create the illusion of more space by delineating the room using furniture and other material possessions, rather than the walls. When shopping for furniture such as coffee tables and couches, go with monochromatic colors. Monochromatic colors give off a peaceful vibe, which allows the eye to rove across the room smoothly. On the other hand, bright, loud colors exude a feeling of disjointedness that draws attention to your lack of space.
Optimizing L-shaped Layouts
Many architects build apartment living rooms according to an L-shaped layout. The living room sits at the long or short end, and flows into a dining area positioned at the other. You can decide which area to define where by giving priority to the types of activities in which you and your family engage. For instance, larger families who spend lots of time congregated in the living room should establish the long body of the L as the living room, and designate the small part of the L for dining.
Cover Walls
Many landlords ask that you refrain from any activity that leaves marks and holes in your walls. That does not mean you should leave them blank, especially if you want to pull the eye away from small living-room quarters. As long as you work within the confines of what your lease allows, deck the walls with murals, some of your favorite paintings, family photos, and posters.
Shelving
If you prefer not to hang your knick-knacks, shelves should do the trick. Hang pairs of floating shelves and cover them in books, plants, flowers, and other knick-knacks. In apartments that do not allow you to hang items from walls, assemble open shelving units such as metal shelves. Besides looking sleek and fashionable, open shelving units come with the extra advantage of being easy to tear down and move around.
Lighting
Lighting makes your apartment living room look bigger and stirs up the sort of feel-good vibes only bright, warm sunshine can produce. Leave your windows free of blinds and drapes to flood your living room with sunlight. For even greater vibrancy, buy or paint vases in vibrant colors and fill them with equally vibrant flowers.
Types of Sofas
The type and amount of furniture you keep in your apartment living room depends on how much space your living room offers. To save space, opt for a sofa instead of several bulky chairs.
Sofa

Features

Typically made up of three or more pieces

Able to be arranged in different configurations

Numerous designs and materials from which to choose

Mid-century Modern

Minimalist design, eliminating the bulky appearance of sofas many people do not care for

Available in many varieties

Not quite as comfortable as bulkier, well-padded sofas

Chaise Lounge

Doubles as a single-person lounge chair

Perfect for when guests sleep over

Ideal for small room
You should also factor in how often you entertain guests. If you enjoy hosting social functions such as Super Bowl parties and board-game nights, purchase a sofa that accommodates more people.
How to Buy Furnishings for Your Apartment's Living Room on eBay
Do not pull your hair our searching high and low for furnishings and supplies. You can find wicker chairs and sofas, throw pillows and murals, flowers and table fountains, and any other type of fun living-room-ready products from eBay's Top Sellers. Begin your search by navigating to any eBay page and locating the search bar. Enter general search terms such as "furniture" for a list of general results, or narrow down searches by entering specifics such as "bamboo chair." eBay's Top Sellers also offer used products. Read product descriptions carefully to ensure you get an item in good condition.
Related posts: