corner seating designs
20 Beautiful Kitchen Booths and Banquettes
January 3, 2023 – 11:58 am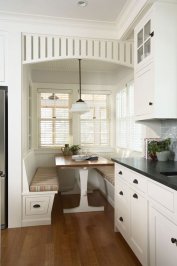 In addition to a kitchen table and island, designer Peter Salerno incorporated this quaint booth in his kitchen remodel in order to add a cozy spot for the family to dine. "The first cup of coffee in the morning was in the booth, " explains Peter. "The kids' breakfast was served in the booth or on the island. Dinner was at the kitchen table with the family. For big family parties all three are used."
Pretty in Pastels
A cheery blue paint job sets this banquette apart, while green upholstered cushions make it a comfy spot to enjoy breakfast with the family. A pair of wooden chairs and a white-washed table add to the home's cottage appeal.
Seating With Storage
Designer Jil Sonia McDonald hoped to make the most of her client's space while still incorporating a beloved vintage table. A white and tangerine window seat with built-in storage was just the ticket. "We started with the client's existing round table, " explains Jil. "Initially she was going to just use chairs in this area, but I suggested that a bench with storage would be more practical and comfortable."
Children's Corner
A tray of art supplies and a quartette of framed children's art prove that this booth is good for more than just providing a sweet spot for dinner. The bold geometric wallpaper and bright green upholstery make this cute booth the most fun place in the house.
City Seating
Take a basic wooden dining table and add a custom banquette on two walls, and all of a sudden you have seating for a dozen. Emeco Navy chairs and a fresh bouquet of sunflowers add a delightful pop of color to this bright space.
Quaint is Great
You don't have to have a large table in order to have a banquette. With this smart setup, an adorable round table makes it easy for people to enjoy a comfortable seat without having to disrupt those around them when they wish to get up.
Bright Booth
Bright yellow upholstered seats make for a lively and comfy dining experience in this fun blue and yellow kitchen. An attached wooden table allows for plenty of room underneath the table, making the most of the space.
Decadent Dining
A sofa-inspired banquette and stunning chandelier exude glamour in this luxurious, contemporary breakfast area. A mix of patterned pillows and a black and white accent wall add to the room's sophisticated appeal.
The Everything Banquette
Before a redesign, this kitchen's dining area was anything but cozy. After some smart planning by designer Jane Ellison, the stylish banquette that serves multiple purposes completely transformed the space. According to Jane, "Now the banquette is the most used area of the home for leisurely meals, work on laptops, games, art projects and homework. And with electrical outlets built into the banquette side, a much needed IT station is there when needed."
Party Central
According to designer Vanessa Deleon, for a family that loves to entertain, a built-in booth with island access is a great way to supply extra seating where everyone already gathers. "The island is always the heart of the kitchen, therefore people can congregate by the island and around the 30-inch high table versus a typical 36- or 42-inch bar. It's especially nice with small children, " says Vanessa.
Country Cottage
Booths and banquettes are most often associated with modern and contemporary spaces, but this quaint country kitchen looks super sweet with booth seating for four. On top of its charming appearance, this booth also boasts practicality with a pair of large drawers built into each side.
Rustic Meets Modern
"The kitchen was designed as the main hub for gathering and entertaining large groups, " says the room's designer, Joseph Stabilito. "The owners wanted to keep the rustic quality of the original house but also wanted a more contemporary feel for the newer sections of the home that would blend in. So we used natural materials like wood and stone to add warmth, but in modern profiles. They specifically wanted a place for casual meals like breakfast, so I designed a banquette tucked into the corner by a nice window."
Relaxation Station
In this white contemporary space, a sleek blue banquette steals the show and adds a pop of color with a relaxing vibe. Exceptional lighting and an orchid centerpiece accentuate the room's tranquil but stylish look.
Narrow No More
While redesigning an already narrow kitchen, designer Shirry Dolgin hoped to add a table without taking up a lot of space. "It was my goal to have a space that would allow the family to eat in the kitchen and not take away or make the kitchen feel small, " explains Shirry. "So instead of stopping the kitchen just after the sink and creating a peninsula with bar stools (the way it used to be), I continued a banquette and added the table and chairs."
Stylish Solution
To make the most of an awkwardly shaped corner, designer Jane Ellison had to think outside of the box. "The walls are not right angles, so the bench and table are custom designed to fit, " says Jane. The Burmese carved wood mandala became the focal point in the space and mimics the Asian style of the custom table.
Related posts: