Contemporary living room Furniture for Small Spaces
Tiny Spaces
August 10, 2019 – 05:27 pm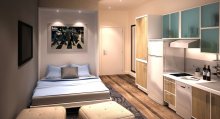 Have you priced an apartment in a thriving urban area lately? Shocking isn't it? Square footage comes at a steep premium in downtown districts as Millennials flock to these communities. The younger generation prefers to live close to work, quality restaurants, and nightlife.
The highest priced rentals can be found in San Francisco, with a median rental rate for a studio apartment of $3, 200 per month. Boston, while less than San Francisco, will still set you back $2, 600 per month. Even, budget-friendly cities like Nashville, charge $1, 400 for a 400 square foot studio apartment in their urban communities.
While a one or two bedroom apartment would be preferable to most, that option just isn't in the cards for many renters. So, how can you live comfortably in a tiny studio apartment? Here's how:
Create Individual Rooms With Partitions
Bookcases are the perfect piece of furniture to create individual living spaces in an open-concept space. Create living and sleeping areas with the placement of a wide bookcase that can also be used as a TV media area.
Minimize Furnishings
Every living space does not need a coffee table. However, every small living space could use multi-use furniture, such as a credenza used as a media unit, is also great for storage. Also, be sure the furniture is small in scale, as to not overwhelm the space.
Space Planning
Quite a bit of furniture can be used in a small space, but careful space planning is essential. Measure the space and measure the furniture you want to use. Keep in mind that you will need at least 24" inches of walking space between furnishings.
Color Coordination
An open-concept space is unified by the use of color. This room uses red accents to tie each space together. This look is well-planned and the execution is perfect. This is how you make a tiny space a cozy retreat.
Less Is Best
If you don't do much entertaining in your apartment, then go for minimalism. With a lack of furnishings, the space feels larger and you'll never feel cramped in your otherwise small apartment.
Related posts: